Creflo Dollar — Recovering from Unexpected Loss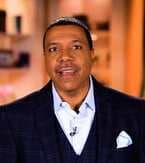 Apart from God, human beings are frail. Plenty of people struggle with issues like alcoholism, drug addiction, poor health, emotional or physical abuse, divorce—the list goes on and on. God has healing on every level already set aside for us, and He's waiting for us to accept it.



Therefore I tell you, whatever you ask for in prayer, believe that you have received it, and it will be yours (Mark 11:24, NIV).



Healing is His will concerning us, and it will manifest in our minds and bodies if we let it.