Creflo Dollar — Receiving the Gift of the Holy Spirit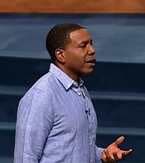 The Holy Spirit has been sent to us as a gift and a blessing, and He is the Helper we need in all areas of our life. He teaches us to pray in the spirit in a language we do not even know about.

We did not do anything to deserve this gift, but God gave it to us out of His grace and love for us. When we have His Spirit inside us, we can produce the fruit of the spirit. The manifestations of that fruit include love, joy, and peace.