Creflo Dollar — Overcoming The Pain Of Your Past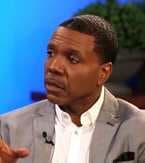 If you've ever struggled with abuse emotionally or physically, or know someone who has, you may be thinking, How could anyone overcome such a painful past? The answer is, Only by the Grace and love of God!

The first step toward overcoming a past of abuse is to realize that you are not to blame, and that God wants to set you free from your past, so that you can enjoy a bright future.