Creflo Dollar — Obedience is Receiving God's Favor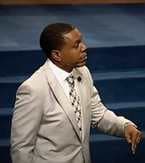 TOPICS:


Our obedience can falter on a daily basis, but Jesus' obedience is perfect. This is what we can base our spiritual walk on. We can rest assured that our salvation doesn't depend on how well we can obey, but on the obedience He showed more than 2,000 years ago (Philippians 2:8).

He has finished all the work, and now it's up to us to decide whether to believe and have faith in the power of what He did.