Creflo Dollar — Love Thy Neighbor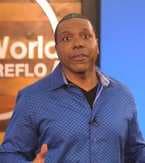 TOPICS:


Life can bruise and wound, leaving us feeling like we just want to move on and leave the painful past behind. On our own, it can seem impossible to get past the scars and bad memories. But when we're at the end of our rope, God does the impossible.



Thus saith the Lord, which maketh a way in the sea, and a path in the mighty waters; remember ye not the former things, neither consider the things of old. Behold, I will do a new thing; now it shall spring forth; shall ye not know it? I will even make a way in the wilderness, and rivers in the desert (Isaiah 43:16, 18, 19).



When God embraces us, He frees us and empowers us to let go of old hurts and move forward.