Creflo Dollar — Hope To The Hopeless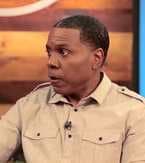 The Word of God is your way out of any situation. Because God's Word is infallible and contains burden-removing, yoke-destroying power, when you can meditate on it, and speak it, you will see changes in your life.

While the facts about your situation may look bleak, the truth found in God's Word brings light, hope, and deliverance. You can't handle life's challenges alone, and God doesn't want you to. He loves you, and as long as you believe this in your heart, you have access to His divine intervention.