Creflo Dollar — Commended to God and the Word of His Grace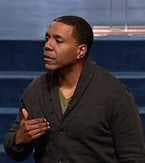 When we want to see true change in our lives, we need to entrust God to take care of us in every area. To entrust someone is to commend them. After he was born again, Paul commended the disciples to God, so that they would be protected from evil. In the same way, we can commend our lives, and our family's lives, to Him for safekeeping.

When we are born again, and learn to trust God enough to meditate on and live His Word, amazing things will happen. He promises to transform us into His very own image, if we just believe and have faith in what He tells us.