Christine Caine - Press Through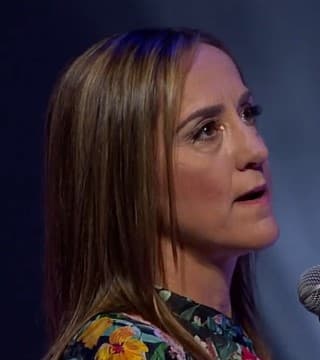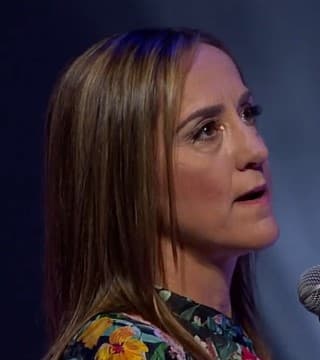 Hi, this is Christine Caine, I am so excited to be with you today. Today I'm speaking about "How We Need to Press Through In Order to Get Out Break Through". So many of us are sitting back just waiting for God to drop our freedom out of the sky. Well, the fact is, Jesus Christ did die on the cross and rise again from the dead to set us all free but it's up to us to press through to lay a hold of all of that for which Christ Jesus has laid a hold of us. I know that this teaching is going to help you, in fact, why don't you just press the button on your DVR so that you can record this for a friend that needs to walk in the freedom that Jesus has for them. Let's dive right in. I can barely wait to get this message into you today.

I feel some faith in the room today, we are not serving some dead God, you go to any country on planet earth, you ask any Buddhist, if Buddha is alive, they're going to laugh at you and say, you know what, he had a bit of a weight problem and he died. You go any follower of Confucius and you say, is Confucius alive? They'd say, of course not, we follow his teachings but he died, you go to any follower of Muhammad, any Muslim and say, is Muhammad alive? They'd say, of course not, we follow his teachings but Mohamed died but let me tell you this, you go to any country on planet earth and you find me any Christian and you ask them if Jesus Christ is alive they are not only going to say yes, they're likely to tell you that they just finished having a conversation with him because Jesus Christ is alive. He lives. Come on, let us worship him. He is mighty, he is holy, he is worthy.

Come on, let's worship him one more time, he is so worthy. We can do better than that, Dallas, Texas. Come on, let's roof off this place. Hallelujah, clap your hand oh you people, shout on to God. Oh, where do you come from? We are some on fire women of God in the place today that's for sure. I want you to turn to three women you don't know and say get ready, get ready, get ready. Fantastic, turn to the woman next to you and say you are the best looking chick I've seen all day. Now you need to turn to your second choice and say, you're actually better than the other chick, that's for sure. You can be seated oh, man, I am so glad you came.

My name is Chris Caine. On behalf of all of our propel team, we just want to welcome you. We are so grateful that you came, the chicks from Dallas and surrounding areas. You were so hungry, you packed this place out. I was wondering if anyone would come not only would you come, you have like, come out in force because how many people know that God is doing something amazing with his women on the planet, that's it. Women are hungry for God, the presence of God, the power of God. When the Lord put it in my heart to start propel, it was just out of the scripture in Matthew chapter nine where Jesus said. "The harvest is plentiful, but the laborers a few".

Therefore, and Jesus once taught us how to pray in the Bible in the Lord's prayer, and then he only taught us what to pray once. "Therefore pray to the Lord of the harvest, to send forth labors". That word, "Send forth" in the Greek is ekballo to propel laborers into the harvest. So whether you are a stay at home mom, whether you are a corporate executive, whether you're an entrepreneur, whether you are single or married or single again, whether you have children or don't have children, if you woke up this morning and there was not a white chalk Mark around your body, what that basically means is that you're alive and you're a woman and God has a plan and a purpose and a destiny for you wherever you fit. And our goal in gathering together today is that we might be ekballo, propelled into our God given destiny and future because the hour is urgent on the planet.

We have a world that is living in darkness, a world that is confused but I thank God that we the church do not need to untangle in these times because we have the answer and his name is Jesus, we have the hope and his name is Jesus, we have purpose, his name is Jesus. And you don't need to freak out, some people walking around kind of all freaked out and really despondent. Have you ever been into the locker room of a losing football team? It feels like really depressed, really quiet, really morbid. A little bit like some churches on Sunday morning. Not all but just some, just seeing what's it's like but have you ever been into the locker room of a winning team? Everyone's like high fiving each other, screaming and shouting and they're full of joy and full of celebration?

Well, I don't know about you but I read the end of the book and guess what? We win. We're on the winning team, we've already won and so if you are wondering why we are pumped up and fired up and jumping right into it this Saturday morning is because Jesus Christ not only went to the cross and he rose again on the third day and because he is alive, all of us can have a sense of hope and purpose and destiny regardless of what's going on around us. Jesus is victorious, we are on the winning side and he has sent us to be life and light and hope in a lost and a broken world, we are the answer to many of our prayers, we are the answer to many of the world's prayers, we need to get the sultan light that's within us out into a lost and a broken world that we can see transformation take place so you are in the right place.

You're in the right place today. I'm sorry, if you thought you were going to come to a kind of like a very somber women's gathering. Well, we're just going to be like deep and introspective. Do you know I stayed in youth ministry for 15 years full time? Do you know why? Yeah, go the youth workers. You know why? Because I never wanted to graduate to women's miseries. Honestly, I was like, I do not want to be one of those depress women's cheeks like gag me with a spoon, Jesus is alive, I want to be a radical revolutionary that's going to change the world for Jesus Christ. Unapologetically. Super granny for Jesus. That's it, man. I turned 50 and I love it. Come on somebody. You want to see if I'm 50? Check this.

Well, as you can see, this is not your average woman's conference. I love you all feel on fire. Why don't you turn with me in the Bible. Well, could you get to the Bible. Philippians. The book of Philippians, we are on fire chicks, if you are alive, God has a plan and a purpose for you. It's not over, whether you're 15 or 90, in this room today, every single one of us this is for us. The Bible says. When you turn to the book of Philippians 3:7-16. "Not that I have already obtained all this or have already arrived at my goal, but I press on". Everyone say press. "But I press on to take hold of that for which Christ Jesus took hold of me. Brothers and sisters, I do not consider myself yet to have taken hold of it. But one thing I do. Forgetting what is behind and straining toward what is the head. I press on towards the goal to win the prize for which God has called me heavenward in Christ Jesus".

I love this. I love how Eugene Peterson puts it in the Message Bible. He says, "I'm not saying that I have this all together, that I have it made. But I am well on my way, reaching out for Christ who has so wondrously reached out for me. Friends, don't get me wrong. By no means do I count myself as an expert in all of this but I've got my eye on the goal, where God is beckoning us, onward to Jesus. I'm off and running, and I'm not turning back. So let's keep focused on that goal, those of us who want everything God has for us. If any of you have something else in mind, something less than total commitment, God will clear your blurred vision, you'll see it. Now that we're on the right track. Let's stay on it".

I love this portion of scripture, I literally, just two weeks ago was in Philippi, teaching out of the book of Philippians, which was like just so, so real and Philippi is the place where the first European convert happened and her name was Lydia. I love it that the first person saved in Europe was a chick. God likes chicks how many know that? And I love it particularly because Philippi is just about 40 minutes away from our A21 headquarters, which is in Thessaloniki and if you remember, in Philippi, in the book of Acts, it's a case where Paul cast a demon out of a slave girl and it was so, so real being right there in the forum where that happened. And I thought it is just like God, to save, a very, very wealthy businesswoman, Lydia and to save and deliver a very, very broken and tormented slave girl. And that's what propel is all about, from the top of the top to those struggling at the bottom. It's for every single one to say that, you know what, God can deliver you and propel you into your destiny no matter where you are in life.

Paul says a he starts, he says. "Look I haven't arrived yet". I'm not there yet. I may have written two thirds of the New Testament, I might have written 13 New Testament books, I might have planted a lot of churches, I might have raised up a lot of apostolic and prophetic ministries, I may have raised up and release pastors and teachers and prophets into the body of Christ, I may have done many things in my life, but I need you to know, I'm not there yet. Wherever you are in life, I want you to know you're not there yet, you say, Christina, how do you know that? Because you're not dead and I think.

Look at the person next to you and say you laugh, because you're not dead yet because you only get there when you get there. There is no there on this side of eternity. It doesn't matter how much you acquire, how much you accumulate, how much you amass in your life. It's not about acquiring or amassing or accumulating. It's about being sanctified and conformed and transformed to the image of Jesus Christ. And last I checked, none of us are there yet. Paul says, "I'm not there yet". The world would love us to believe that if we reached a certain status, if we acquired a certain amount of income, if we had a certain position or a title, certain square footage on our house, then we're there and that is such a lie to sell out to because it's so empty, there is no there outside of transformation and conformity to the person of Jesus Christ. And so all of us are on that quest and the Christian journey is a journey, onward and upward.

Now, in order to go on and up, you've got to go in and down. That's how it works. The deeper we go inwards and allow the Holy Spirit to do a work in us, the greater work that God can do through us. How do I know the Christian journey is not a downward spiral but an upward journey? Proverbs 15:24 says, "The path of life leads upward for the prudent". Romans 1:17 says, "For the righteousness of God is revealed from faith to faith". Psalm 84:7 says, "They go from strength to strength". 2 Corinthians 3:18 says, "We go from glory to glory". So it's an upward journey, from faith to, from strength to, from glory to. So wherever you are on the continuum this morning, there's more, there's more faith, there's more strength, there's more glory.

I don't care if you're 15 or if you're 50. God has more for you. He wants us to press on, there is so much more. We exist as propel help you keep moving forward, to do the work that's needed to be done in and down, so that God can do more through us out and on. He says i, "I press on". Christianity is not a passive spectator sport. And in the day and the hour in which we live these are urgent times and the enemy would love to come and whisper in your ear, "Just pull back, just settle". There's almost like this wave through the church currently. Let's just be balanced...

I mean, what is balance? What is nine and a half inch Austria arteries and veins and a spirit on your side and three days in hell, oh, I'm not balanced, I'm not quite sure where the balance is. I don't know where anyone ever got any idea that this side of eternity we're going to live a balanced life, we're going to live a fruitful life, we're going to live an abundant life but we're going to leave anything but a balanced life, we are radical revolutionaries for the cause of Jesus Christ and the Gospel of Jesus Christ going forth. He says, "I press on". The path of least resistance is not going to bring us goes to our destiny. So, to try to pull back because there's too much resistance out there, is not going to get the job done.

Pressing happens in every aspect of life. You get up and goes nearly every one of you I'm in Texas. Texas God bless you here. What do you say the higher the hair the closer to God, you are in this place, you all bet more coming tonight, it's going to go next level, there's no doubt about that. I told you, God brought me in her life to flatten her head. Okay? But you know what you can do, you can stand there with a hairdryer, but nothing is going to happen some of you nothing's happened in your Christian life because basically you've got a press, what you've done is you've pulled back instead of pressed on, some way something came in affected you, disappointed you, someone betrayed you, someone hurt you, someone left you or you just yourself become in different, human nature left to itself really isn't going to care about anyone but ourselves. That's just human nature, that's just a byproduct of the sin nature, so the fact is, I'm here to ask you this morning right from the outset.

Where did you stop pressing? Where in life your life did you stop pressing on? And you just got caught up with some old momentum. Maybe you're on fire for God when you're in youth ministry, when you're a young person or when you were newly married or when you were just starting in college or when you just got your new job and you were on but somewhere along the line you just settled, or you still going through the Christian motions? You still go to church, you still might even have a quiet time you're still relatively a fairly nice person most days if nobody's looking. But the truth is, you stopped pressing. Somewhere along the line, you stop eagerly desiring the purpose of God for your life, eagerly seeking what is the plan of God for my life? Why am I on this earth right now? Why do I have the gifts that I have? Why do I have the talents that I have? Why do I have the skills that I have? Why am I positioned in this nation in this time in history, in this place? Why am I...?

Somewhere you stop pressing and it was like it's just too hard and took the path of least resistance and then we almost built a theology around that. We started to tell people, God doesn't want you to strain yourself, Jesus came from heaven to earth died on a cross and rose again from the dead just so that you can be nice peacefully, just so that you can retire and go of your way to heaven. Just so that you can have 17 massages a week and, I might just stop there cause I'm meddling now.

Now I'm into an abundant purpose filled life. I believe that Jesus wants us to enjoy our life, but as we live it on mission, for his purpose, for his plan and he wants us to continue to press on. I am here and I am on a mission in Propel Woman to start getting the women of God pressing into the purpose of God, that they would fulfill the potential of God on their life and that we will do what God has called us to do. There has been an assignment for centuries to keep women out of the main thrust of what it is that God is doing. Just sit down, be quiet, be nice. Well, I'm saying let's stand up. Let's still be nice but let's go out and do what God has called us to do and be activated to be the women of God that he has called us to be. You can wear stilettos and lipstick but you can kick the devil's buck with stilettos and lipstick. That's all I'm saying, you can do that.

I wonder why you stopped pressing to believe God to restore your marriage, where you stopped pressing to believe God to bring your children back to God where you stop pressing to believe God for a godly partner, where you stop pressing to continue to believe God for healing, for deliverance, for breakthrough, where somewhere along the line, did you stop believing God or you believe in God, but you stopped believing God and you got settled for just the status quo for just the way things are, as if God doesn't still move today, as if God still doesn't want to do something awesome in your life today. Well, I'm here today to activate your faith, to say, come on, it's time to start pressing. Because if you want a breakthrough in your life, you've got to press through, you can't just sit down there, unlock drive through breakthrough goes.

You have got to press through, I know we drive through to get our Starbucks, we drive through to get our sonics but you ain't going to drive through to you need to press through and lay hold of Jesus Christ for your breakthrough in every area of your life. Where did you stop pressing? The fact is, if we want to see a breakthrough in our lives, we have to believe. I'm Greek and I know everyone wants to be Greek. Give me a word, any word I'll just will. And I love olive oil, I drink it for breakfast every morning, it's fantastic.

But you are not going to get any olive oil if you don't press the olives and what happens to a lot of us, is God will take us into the refining fire and he will begin to press and because we live in a time of ease and comfort and no one wants to be endure any discomfort, we try to get ourselves out of the refining fire of God and we try to numb or minimize any kind of pain or any kind of pressing because no breakthrough and no sanctification is going to happen without pressing. We need pressing, to break through Isaiah 10:27 says to us, that it is the anointing that breaks the yokes and chains.

Now let me tell you why many people are still in bondage. Why they can come to church but 10 years, listen to sermons, come to 100 women's conferences, do 500 Bible studies and still walk out bound and not free and not pressing on because what we've done is, we've confused anointing with gifting, we get enamored by a gift. We love in the generation in which we live. We love everyone's gifts and talents, gifts entertain us, gifts fill arenas, gifts can keep us occupied but gifts do not break yolks and chase. Only the anointing of God breaks yolks and chains. We don't need any more superstar, celebrity, gifted preachers and teachers, we need anointed ones that can see yokes and chains and bondages that are broken over people's lives but the anointing comes with a price. The anointing comes with crushing. Your flesh has to be crucified. You have to learn to die daily.

You want to see power in your relationships? You want to see power in your marketplace? You want to begin to change the atmosphere of a very dark world around you and to bring light and salt into very dark situations? Then we need anointing. And that anointing comes through allowing God to do the work he needs to do in us so that he can do the work that he wants to do through us. And a lot of us are running from the dealing of God rather than staying in the refining fire to become the women of God that he's called us to be. And at some point you've got to decide, I'm going to stay and let God do what needs to be done in me so that he can do what needs to be done through me.

People often look at my life and say, Christine, how are you walking free? Many of you know my story. 12 years of abuse, being left in a hospital unnamed and unwanted. Well the fact is that it's not that suddenly God loves me more than any other girl that's been abused or hurt. The same freedom that is available for me is available for everybody. Some people have even dared to say, well, Christine, that's because of your personality. You're just a really strong personality type and you're determined. And I'm like, since when was freedom a personality type? I thought freedom was a blood type, the blood of Jesus Christ of Nazareth. I thought that's what sets us free. And that blood was shed for every one of you in this room, every person, but you've got to stay in the press in order to find your freedom.

You've got to stay in the press and allow God to do what he wants to so you don't just keep running around from relationship to relationship, from person to person, from job to job, chasing your tail, looking for a freedom that you're only going to find in Christ by letting him do a work in you. And so at some point, we have to grow up, girls. Pressing on means growing up. Pressing on means allowing God to do what he needs to do in and through you, but there has to come a time in your life where you are going to make what Jesus did for you at Calvary bigger than what anybody else did to you or bigger than what anybody else said about you.

There comes a point, and this is the time on the earth for this. The spiritual tectonic plates of the planet have changed. We are not going back, so we need to grow up. We need to grow up and be mature so that we can be salt and light and we can play our part because let me tell you something, it's not over, Jesus is coming back. You don't have to freak out, the sky is not going to fall. In fact, it's going to roll back and he's coming back on a horse. You don't have to freak out. It is happening, he is coming back. But he's coming back for a mature bride. He's coming back for women of God, men of God that are mature and so that means we have to get to a place where we live what we say we believe.

Paul says, I keep pressing on. Offense comes, I keep pressing on. Bitterness comes, I keep pressing on. Betrayal comes, I keep pressing on. Disappointment comes, I keep pressing on. We need to be a generation of people that are not just going to be bowled over like a 10-pin ball bowls us over because we've got no backbone. We need to stand up to the devil and say grater is he that is in me than he that is in the world, that I can do all things through Christ Jesus who strengthens me. I am going to keep pressing on. You cannot press on from a place of anxiety.

And so that's why the scripture says that we're to pray about everything, be but in everything with prayer and supplication and thanksgiving, make your requests known to God so that the peace of God that surpasses all understanding, makes no sense, will guide your heart. But if we are constant, I don't know if you've noticed but the world is cray-cray. Just cray-cray, it's flat out cray-cray, that's it. But just because everyone around you is going crazy doesn't mean you have to. Just because the world is spiraling out of control doesn't mean you have to. And so you can't keep pressing on if you're just freaking out.

So why don't we do what the Bible says? Be anxious for nothing, but in everything with thanksgiving, prayer, and supplication make our requests known to God so that the peace of God that surpasses all understanding will guard our hearts. Do you know how much that would freak the world out? Like, why are you not going insane? 'cause I know Jesus. Yeah but, the world's crazy. I know, I know, but I know Jesus. But people are doing like really crazy things. I know, they always have, aren't they weird? Why are we acting like people have just started going crazy? They've been crazy from the beginning of time. Did you ever see what happened in the Garden of Eden? That was cray-cray. I'm like, it's nothing new, so why are we acting like it is?

Such a testimony to the world around us that we can be steadfast, immovable, always abounding in the work of the Lord, knowing that in every place and everywhere they're looking at us and going, you just keep pressing, yep. Because my goal is Jesus and I'm pressing on to reach my goal, Jesus. He is the author and the finisher of my he is, I'm fixing my eyes on Jesus. I'm setting my mind on things above. I'm not moved by what happens in this world. I'm in this world but I'm not of it, knock yourselves out. But I am going for an eternal crown. I am fighting an eternal fight.

This is a fight of faith, I am running a race and I have not finished my course. I don't care if you've run your race and you win and you lose. I'm not running a political race. I'm running an eternal race and my goal is Jesus Christ. That's what I'm running towards. Jesus is my goal. Last I checked, he's still on the throne. He didn't like fall off the throne. Oh my God, no, I am God. All three of me, I'm God. Do you ever wonder what God says like, o-m-me. Anyway, so like he's freaking out. It's not like he was sitting there on Tuesday going, o-m-me, what am I going to do? What am I going to do, I don't know. None of this was coming, I didn't know this was coming. Oh gosh, Gabriel. Gabriel, we might have to rewrite the end of the Bible.

Just, did you know this was coming? I mean seriously. Could we like act like we believe that there is a sovereign God who is good and who does good, who works all things together for our good and for his glory? Can we act like we believe it? So what do we do, press on. I'm pressing, I'm not there yet. My marriage isn't there yet but you know what? I'm pressing on, let's see the life, I would love to have a guy, I haven't got one right now. But I'm pressing on. My job might not be exactly the thing that I want right now but I'm pressing on, I'm pressing on. Fear, you can't press on when you're full of fear. Fear cripples you, fear paralyzes you. You cannot press on when you're just exhausted.

Some of you need to get off social media. Some of you are exhausted through the competition and the comparison game, it's killing you. You thought your lounge room was beautiful till you got on Pinterest. Disappointment, you can't press on when you're in that place of disappointment. Shame, guilt, apathy, the fact is, nothing comes easy for anyone.

I'm 50, do you know, about six weeks ago now I celebrated my 50th birthday. It was so incredible and driving home celebrating with 150 of my dearest friends on earth on a beautiful boat. I turned on my phone and I had 26 missed phone calls from my brothers in Australia to tell me that my mom had passed away, possibly while I was dancing Zorba the Greek on the boat. She would have been happy, what a way to go. But I flew back to Australia and already turning 50, being half a century makes you just very aware that life is short. Whichever way I live this thing, I've got less time ahead of me than I had behind me.

But as they were burying my mother and the coffin was going down I literally just had this thought, I'm next. Because in the right order of things, I plan to go before my own children, now I have no parents above me. So I thought, I'm next. And in a world that is obsessed with, I'm next, I'm going to be the next singer, the next artist, the next big this, the next big that, none of that next actually mattered to me in that moment. I thought, I'm next, I'm going to be standing before the Judgment Seat of Christ and give an account for my life. I'm going to give an account for every word that I've said or Blogged or Tweeted or Instagrammed or Facebooked. It all matters.

You know, when I had my second child at 40, nearly 41, I was not thinking of starting a global anti-trafficking organization. When you pop out a kid at 40, honey, you want a purple heart, like seriously. I was in Greece to go on a holiday on Santorini. I was not looking to rescue slaves. The will of God is deeply inconvenient, highly inconvenient, extremely uncomfortable. But the degree to which you're willing to be interrupted and inconvenienced is the degree to which God will use you. It's as simple as that. So what do I do, I keep pressing. But what we need in the body of Christ is some women that are straining, some women that, it hurts, when you strain a muscle, it hurts. It hurts to forgive. Oh, it hurts to deal with betrayal and offenses and disappointment and discouragement but that's the world that we live in.

And Paul says, I need you to press on. He says, this one thing I do, forgetting, forgetting those things that lie behind. Both good and bad, some of us need to forget some of the glory days and some of us, some of the glory days. You know, I turned 50, so I was abused for 12 years. Nothing in my life will ever change that. But do you know I have not been abused for 38 years? So why would I allow the 12 years to define my whole life when I have not been being abused a whole lot longer than, some of you there was some offense, there was some incident, some teacher 20 years ago who told you, you were dumb or stupid. Some parent hurt you, someone left you, some ex-love or ex-spouse violated you and you're here. But you're only here in body. Everything about you is stuck in that moment and it's time to press on through it. Paul says, forgetting those things.

Some of you, you were the cheerleader, but sweetheart, that was 40 years ago. And if you tried to do a high kick right now you'd put your back out. It's been a lot of years. Press on and stop just talking about what you once did, who you once were, 'cause it's not about who, what we once did and who we once were. He says, I do this one thing, forgetting those things, forgetting. Some of you are so attached to what was. Jesus in Luke 17:32, he said, remember lot's wife. What a weird three words, remember lot's wife. Remember lot's wife, what a thing for Jesus to say. Because she not only looked back when the angel of the Lord came to set them free from Sodom and Gomorrah, some of you in the day and the age in which we live in, which is not unlike Sodom and Gomorrah, some of us are looking back and longing for what we once had. It's the longing for what she had that caused her to turn to salt.

Some of you, you've come here to Propel today and you are borderline going back in your heart and your spirit. And I believe the Holy Spirit has sent us here to say, remember lot's wife. Don't look back, don't long for what you left behind. The devil is a liar, he's going to make you think that what you left is better than what God has for you. But he is a liar, what Jesus has for you is greater than anything that you've ever left behind. Don't turn it around and don't try to make evil things sound good because evil is evil and good is good and our God is good, our God does good, our God works all things together for good. That's what our God does, remember lot's wife. So what do we do, we strain, girls. Life out there is tough, there is no doubt about it. But you and I, we strain. Because the power of the resurrected king lives on the inside of us.

Psalm 80:29 says, with my God I can crush an army, I can scale any wall.

Philippians says that I can do all things through Christ who strengthens me.

Mark 10:27 says, all things are possible with God. Greater is he that is in you than he that is in the world. Our God is able to do immeasurably above everything that we could ever ask, hope, or think. If our God is for us, then who can be against us? Our eyes have not seen, our ears have not heard, nor has it entered into our heart the things that God has for us. Our greatest days are ahead of us and not behind us. The same spirit that raised Jesus Christ from the dead lives on the inside of you and me. But thanks be to God, who in Christ always leads us in triumphal procession.

You know what? We may be small, but our God is huge. We have limitations, but our God is limitless. We are weak but our God is strong. We are finite but our God is infinite. We are imperfect but our God is perfect. We may fail but God never fails. Our God is unstoppable, our God is great. Our God is mighty, no matter what you are confronting, the same spirit that raised Jesus Christ from the dead lives on the inside of us and because God lives on the inside of me, I can do all things through Christ Jesus who strengthens me. We can do hard things, we can do hard things.

You know, girls, just in this moment, I feel prompted by the Holy Spirit to just encourage you, challenge you to not give up and not quit. Some of you, don't give up on your orthodox Christian doctrine. Don't give up in what you were raised to believe. The Bible is true, the Bible is inerrant, the Bible is absolutely the Word of God, infallible and eternal, every part of it, every part of it. The Holy Spirit is real and here to empower you and strengthen you. We've got to keep pressing on, Jesus always was the prize. Jesus always will be the prize.

Some of you, like lot's wife, there's a longing, an attachment that needs to be broken by the anointing and the power of the Holy Spirit with something that was luring you and the enemy will make sure in your weakest, most confused, most disappointed moment, he wants to come in and turn that around because he's after your faith. This is the fight of faith, let me tell you, the issue in the world, it's not a moral problem, it's not an economic problem, it's not a political problem, it's not a social problem, it's not an environmental problem. It's a faith issue, the devil is after our faith. We need a generation of women of faith who believe God is who he says he is, who believe God can do what he says he can do and that will stand up for truth and justice with love and mercy, but we do not throw out truth in the name of love ever, ever.

So this is what we're going to do. I'm going to get Carrie, can you hear me? 'cause sometimes I'm talking and she just nods and she's got these things in her ears. But I just want us to sing maybe without even any instruments, just as a declaration, I'll stand, I'll stand. 'Cause I think God's calling his church in this hour to stand, to say, you know what, I'll stand. Arms high, heart abandoned. Jesus, it's all about you and it's all for you. I might look weird to the world around me but I'm not pressing on for the approval of man. I'm pressing on to lay ahold of Jesus Christ, that's what I'm pressing on for, can we do that? So why don't you close your eyes and raise your hands to heaven? This is a declaration this morning.