Chris Hodges - Vision Sunday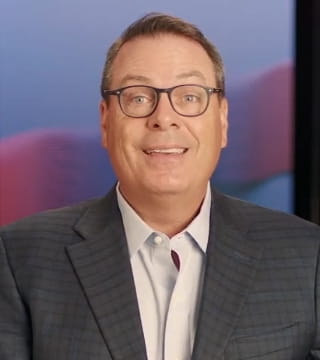 TOPICS:


Hi everyone, welcome today to our annual service that we call Vision Sunday. I want to give a special welcome to all of our locations and campuses, to the men and women in the Alabama Department of Corrections, and to all those who are joining us online, God bless you today. You know, once a year, we not only want to share with you fresh vision of what God is doing here at Highlands, but we also want to make sure that you have a clear vision for your own life. Vision is simple, it's the ability to see clearly. You know, in a world where there is so much uncertainty and so many things that are not clear, one of the most important things that God gives us is his vision for our lives. And that's something that can bring you stability, confidence, and clarity when everything around us feels like shifting sand.

The Bible says in Proverbs 29:18 that, "Where there is no vision, the people perish". The NIV translation says, "Where there is no clear vision or revelation for your life, that people will cast off restraint". In other words, if you don't have a clear vision for your life, then you'll think that it doesn't matter how you live, but it does. And for some of you here today, you need a reminder that God has a wonderful plan for your life, and that plan is the only thing that will bring you real fulfillment. So, let's get started. Literally from cover to cover, the Bible shows how God has always wanted four things for you. We call them the four steps in your spiritual journey: to be in a relationship with God, to settle your issues of the past, to find out what your life is really all about, and then to do something with your life that makes an eternal difference.

Here at Highlands, we say it this way. We want you to know God, find freedom, discover purpose, and make a difference. And all of these hinge on the first and most important vision for your life, and that is to know God. Now, what does that mean? It means to know God in your heart, not just your head. It means to know God in a real relationship, not with a rule following religion. The first step is all important because a real relationship with God empowers all of the other steps.

1 Timothy chapter 6, verse 21 says, "Some people have missed the most important thing in life. They don't know God". And it's not only the first and most important of God's vision for your life, it's the first and most important function of our church as well. As a church family, we do everything we can through our giving, our serving, our praying to help people everywhere to know God. We do everything we can to reach people far from God with this very important truth, that Jesus came to pay for their sins so they wouldn't have to. We're compelled to let the whole world know that Jesus is the only way to God.

That as Acts chapter 4, verse 12 says, "Salvation comes no other way. No other name has been or will be given to us by which we can be saved, only this one, Jesus". And that's why, if you're a member of this church family, it's important for you to know what we are doing together to reach people far from God. So, let me share some exciting vision with you today. As you know, we have campuses all across our region that start in a portable location so that the church family at that location can grow while we build a permanent facility. And we build all of these facilities without debt through your incredible generosity.

And by the way, here on this first Sunday of the month, I want to encourage you to honor God with your giving, with your tithes and offerings. And of course, you can do that through our app, online, or by texting the word "Highlands" to 77977. Together, we're not only honoring God by putting him first, together we're making a difference. Right now, our construction team is finishing a brand new facility in Gadsden that will be completed in the early part of 2021. This beautiful facility will be able to house our church family there and continue to reach the people of that region with the gospel of Jesus.

Now, this isn't something that just the people of Gadsden are doing, this is something we are all doing. So, thank you again for investing in the vision of your local church. And now our trustees, who are the non-staff elders of our church, have turned their attention to Woodlawn, Alabaster, and McCalla. In all three of these locations, we have or we're in the process of securing property for future campuses. By the end of September, this month, our goal is to own property in all three locations. And our hope is to begin construction in these locations in the near future so that the precious people who live in those areas can have a place to worship for generations to come. I've also got some more exciting news. Even in the midst of all that's going on in this season, we're opening up two new campuses this fall.

On Sunday, September 20, in just two weeks, we are launching a brand new Uptown campus, which will meet at the beautiful BJCC Theatre. This location will not only allow us to reach the people who live near the downtown area of Birmingham, but also, for the time being, will give our Woodlawn and West campuses a place to worship. This new campus will be under the leadership of Pastor Jamil Gilleylen and Pastor Mayo Sowell. We're so excited about the new Uptown campus of Church of the Highlands. And on Sunday, October 11, we're launching another campus that we've been working on for years, and that's in the great city of Troy, Alabama under the leadership of Blake Cotter. We look forward to not only serving the people who live in that city, but also reaching out to the students who attend Troy University.

Now, why are we doing all of this? Well, let me answer the way the Apostle Paul did in 2 Corinthians 5. Paul said, "Christ's love has moved me to such extremes". Our firm decision is to work from this focused sinner, that one man, Jesus, died for everyone. And that puts everyone in the same boat. He included everyone in his death so that everyone could also be included in his life, a resurrection life, a far better life than people ever lived on their own.

Andrew: Through my childhood and teenage years, I've been wounded by the church and betrayed in a way that I didn't think was ever recoverable. I didn't see how a loving God could let things like that happen. And that led me to not believe in God. I was really a raging atheist. I was the person that would tell others their faith was wrong. It was years of feeling unworthy of anyone's love, of God's love and my family's love, not wanting to be seen really, right? Wanting to crawl in a hole and stay away from everyone. I mean, I felt very empty for a long time, and I filled that void with work, I filled that with hobbies, and I filled it with alcohol. Anything to escape, anything to keep my mind busy 24 hours a day so I didn't have to think about the past and I didn't have to think about God.

My number one goal in life was to survive, to see another day, and to do as well financially as I could. I mean, at that point, it didn't matter what I did to try to fill that hole in my heart. No matter what, I still felt downtrodden, exhausted, fatigued. I could never seem to get over the hump. I would try to fill up on work or whatever it was for that week and, you know, maybe have a sense of accomplishment at the end of the week. But the next day, it was gone and I was back to where I was, incredibly hopeless. It had been years of work and alcohol to fill in, you know, every day of my life. And one Sunday morning, I woke up and said, "Something's got to change".

I was home alone and I had decided I'm going to go to the church. It was undeniable and unquestionable that I had to get up and go to church that day and see what this is all about. And I'm not sure if I called out to God or if God called out to me, but it wasn't long into that service that I knew that I felt God's presence on my life, that I felt the Spirit move. And I knew right then that what I had been denying all those years was in fact true.

That was the turning point of my life. I wanted as much as I could get. That meant every Sunday, finding a way to attend or attend online, every first Wednesday. And every opportunity I got, I wanted to be a part of it. To get involved in the church and really find a purpose has been unbelievably rewarding. Knowing God changes the lens with which I view the world in every interaction I have with my family, with my friends, with my co-workers. That's what's been incredible. I was in hell on earth, never fulfilled, never satiated, but always seeking. And now, I found and now I live a life with fulfillment. It's incredible how much better my life is now with God. It's been a full 180 from where I was to where I am today.

Chris: You know, I always love hearing stories of life change. And I want to personally invite you into that far better life. If you've never given your life to Jesus, you're going to get that opportunity before this service is over. And if you are a Christian, but have walked away from the Lord and have started living life on your own, before this service is over, you're going to get the opportunity to come back home. Now, many of you have made that decision in the recent weeks and months, and you would need to know that the Bible says that your next step is to go public with your faith. And that's why we encourage you to follow the example that Jesus himself said, and that is to be water baptized. The Bible says that baptism demonstrates the change that has occurred in your life.

1 Peter chapter 3, verse 21 says, "In baptism, we show that we've been saved from death and doom by the resurrection of Christ, not because our bodies are washed clean by the water, but because by being baptized, we are turning to God and asking him to cleanse our hearts from sin". So, if your heart has really been transformed by God, then it's important to let others know and see you express it through water baptism. Now, in this new COVID-19 reality, baptisms at Highlands have changed a bit. They are by appointment only. Now, all you have to do is go to the Highlands website or app and register to be water baptized. Within a few days, you'll be contacted by someone from your campus to schedule a time for you to come to your campus for a baptism that works for you and for your campus pastor.

So, if you've never been water baptized, don't delay it. Take the next step in what God has asked us to do, and go online and schedule it today. Now, if you have given your life to God, it's time to go to the next step in your spiritual journey, and that is to find freedom. "Freedom from what"? you might ask. I'm talking about freedom from the issues, habits, hangups, hurts, mistakes that continually hold us back from God's best. Here's what we all need to understand. When you give your life to Jesus, your sins are forgiven, and your spirit man is made perfect. That's called salvation. But now that we're saved, God wants to do a work in us, and that's called sanctification. Sanctified means that God wants to take us through the process of making all the broken places whole again.

Let me say it this way, salvation happens in one moment of faith, but sanctification happens over time. We're saved by grace through faith in Jesus without any works. But now, as Philippians chapter 2, verses 12 through 13 says, "We work out our salvation with fear and trembling, for it is God who works in you to will and to act in order to fulfill his good purpose". Now, the primary way we do that here at Highlands is in small groups. Groups give us a place to learn, pray, and support each other through the process of growth that we all need. And today, we're launching thousands of brand new small groups, groups of every type, for every interest, and for every need. And for the next 13 weeks, whether in person or through some virtual experience, the large church will become very small.

Now, this is an important step in your spiritual journey. The Bible says in James chapter 5, verse 16, "Therefore confess your sins to each other and pray for each other so that you may be healed". Let me say it this way, we go to God for forgiveness, but we go to God's people for healing. In other words, God designed your spiritual health and growth to take place in the safety of small group relationships. I'm talking about relationships with people who love God, love you, and want to grow together with you. Ask anyone around who's been in a small group and they will tell you that real life change happens in the context of authentic relationships.

Ian Spicer: Small groups are more important than they have ever been for people, for myself, for you, for our entire church. God's plan for his people is for his people to be together. We go to God for forgiveness, but we go to God's people for healing.

Tony Jones: A lot of people ask, "How is it that you seem to know so many people in church on Sunday mornings"? Well, it's from small groups, it's from the connections that we've made. Even if I've had a group maybe two, three years ago, man, those guys that I connected with back then are still my people.

Kyle Cantrell: Throughout this time, the people in our church stepped up to the plate and they delivered. They said, "Hey, we need connection," and so small groups continued to meet.

Chris Erwin: And so, we pivoted to virtual groups and Zoom groups. Whatever it takes, I got to connect with my people, and it was working. People were still finding freedom, and still finding relationship, and still experiencing life change, and still finding encouragement.

Allen Pedram: We have more online groups than we ever have. We have more phone calls that are being made, prayer before work.

Kyle: They just figured out a way to make it work. Even new small groups started in the summer just because of such great need that people had, just to stay connected and reach people with the gospel.

Ian: Often when we're facing something that's difficult, that's when we need people more than ever. That really comes down to, are you connected to other people that God can use to encourage you, to challenge, you, to build you up, and to be there when you need somebody in your dark moments? I just know that God's going to use this semester in an incredible way. He's going to use it to impact us, and we're going to see freedom like we never have.

Felicia: When I first came to Highlands, I was probably at one of the lowest point in my life. I was trying to stay in a job situation and in relationships that were really just not healthy and were not working well for me, and admittedly trying to kind of control the situation and fix it myself. No matter how much work I did and how much I put into it, it just was falling apart. I was at a very low point. I was very sad, very depressed, anxious all the time, wasn't taking care of myself. It just leads to this place of just thinking that there's no way to fix this. You don't see an out, you don't see anything but the weight and darkness of it all. Most of the time, I would just come on Sundays by myself, and I kind of flew under the radar for a long time.

And you hear Pastor Chris say all the time, "Give me a year. Really go all in and it'll change your life". You know, it's like, "Okay, well, I'm still kind of on the cusp here. Like I'm coming to church on Sundays, but what would happen if I really went all in"? When it came to my next steps in church, it was a God thing because I changed jobs, and one of my coworkers was very connected in the young professional small group community. He was like, "Oh, you should come hang out with this group of people". And I did and fell in love with everybody. That was the huge turning point in my life because it's hard to say, "Okay, I'm going to really spend time in the Word every day. I'm going to make sure that I'm really digging in".

And it gets a lot easier to do that when the people that you surround yourself with are doing that as well. To have that group of people do life with will completely change everything about your life. If I could go back and tell myself that I would be where I am right now, I would've said it was impossible and that I couldn't get here. My life looks nothing like it did a year ago or two years ago. It's just insane to look back and think what you thought was everything falling apart somehow was everything falling together. I'm just so grateful for the journey and everything that small groups has done for my life.

Chris: You know, Felicia's story could be your story. And I think that more than ever before, we need the accountability and support of a group of friends. So, go to our website today and use the search engine that we've designed to help you sort through all of the groups to find the one that's perfect for you. Now, if you can't decide what type of group to be in, let me recommend that you consider joining what we call a freedom group. This is the only group that I believe all of us need to attend once in our time here at Highlands. It only takes one semester to go through this 12-week curriculum that really closes the door on the things of the past that hold us down. So, if you can't decide what type of group is best for you, check out the freedom groups.

All right, let's review. We start by knowing God, then we can find freedom, but here's where the vision gets really exciting, and that is when we discovers our purpose. Now, here's some good news. God has a unique and distinct purpose for your life. He created you in a way that's specifically designed for the calling he places on your life. Now, let's be clear, this really isn't optional, it's critical. Discovering your purpose is not only critical for what God wants to do through you, it's critical for your own fulfillment. The Bible says, "However, I consider my life worth nothing to me. My only aim is to finish the race and complete the task the Lord Jesus has given me".

Now, what was Paul saying? He was basically saying that you're never going to find what life is really all about until you discover the purpose that God has for you. And when you do discover it, then life can't derail you and hurt you like it does so many people. Paul says in 2 Corinthians 4 that when you have this kind of focus for your life, "We do not lose heart. Though outwardly we're wasting away, inwardly we're being renewed day by day. For our light and momentary troubles are achieving for us an eternal glory that far outweighs them all". So, what do we do? "We fix our eyes not on what is seen, but what is unseen, since what is seen is temporary and what is unseen is eternal".

Paul certainly had his share of problems. Troubles with Jewish leaders, he was persecuted by the Roman government, shipwrecks, jail time, loneliness, and a lot of bad days. But none of these had a negative effect on him like they would've had others. Why? Because Paul wasn't focused on them. He had something bigger in his life that he was focused on, and that was his God-given purpose. So, here's the good news, that even though you might not know what that purpose is, you already have a purpose. You just have to discover it, and we want to help. And the way we do that here at Highlands is through the monthly growth track. These three classes will give you the information you need to join the church, help you to discover the unique gifts and talents that God has already put inside of you, and then help you find a place to live out that purpose.

Your campus pastor will make sure you know how you can attend these three classes on the growth track today. But I also want you to know that we feel called as a church to help others discover their purpose. And one of the ways that we as a church family collectively help people discover the call of God on their life is through the vision of Highlands College. For several years now, we've been building what we know will soon be a world class leadership academy that is already placing graduates in ministry opportunities all around the world. Right now, we are remodeling our Grand View facility to house this school, and every one of you is a part of this important vision. We truly believe, as Jesus says, the harvest is plentiful, but the workers are few. Ask the Lord of the harvest therefore to send out workers into his harvest field.

Mark Pettus: So, the prayer of Jesus in Luke 10:2 has always been our guiding light. Over the last few years, literally that dream, that prayer of Jesus, has come into a reality. This facility is not just another building or just another college. It is a world class facility and a home for the vision that God uses to launch leaders into the harvest field for a generation. Every inch of this property is uniquely designed to be a platform for the entire program of Highlands College to live, to breathe, and to work. This building will actually be the biggest catalyst for our vision at Highlands College because it's going to allow us to train more students in better ways, preparing them for what God's called them to. Honestly, my favorite part of the entire journey is seeing each student come in one by one and seeing them come alive in God, discovering their purpose, knowing that that's going to be used by God for the rest of their life.

Steve Repke: My experience at Highlands College, I grew so much, found my purpose, found my calling, from the practicums to the mentors that called out the leader inside of me and challenged me to take those next steps to become the person God's called me to be.

Ashlee House: I'm thankful for Highlands College because of the relationships it gave me, the friendships, the mentors, the pastors.

Brad Newton: I had a purpose, and Highlands really helped me unlock what that purpose was and that it was student ministry. And after I graduated and was able to step into that role, I was able to hit the ground running right away.

Mark: The foundational piece of Highlands College is practical ministry training. But early on, we also knew we wanted to an academic program as a piece of Highlands College, a place where our students could learn theology and worldview. So, for the past seven years, we've been pursuing that accreditation with a dream and a vision for our students to be able to graduate Highlands College with a four year bachelor's degree.

Gina Cox: Ultimately, who benefits from the accreditation process is the kingdom. The kingdom grows because we are sending the trained laborers into the field. You know, when I look to my students in the class, I think, "I may never go to Nepal, but you will. I may never plant a church in New Mexico, but you will". And so, we have the opportunity to speak into the future with these students.

Jeff Johnson: We're building a facility where hope will be promoted.

Bill Kreis: It's once a lifetime you get to do something like this that you know is going to have the impact that this is going to have.

Mark: There's going to be so much that happens over the next 18 to 24 months. It's not just about learning and growing, that's amazing, but that's just one part of the process. When we connect that to purpose is when it really gets exciting, and that's happening every day in our classrooms.

Chris: There are a few things that get me more excited than the vision of Highlands College, I just love it. If you want to know more information of how you can participate, just go to highlandscollege.com. Again, this is our vision, to know God, find freedom, discover purpose, so that we can do what is needed right now more than ever before. So that we can do what we are on this planet to do, and that is to make an eternal difference in the lives of others. Now, this is our real purpose in life. Jesus said, "This is to my Father's glory that you bear much fruit, showing yourselves to be my disciples. I've told you this so that my joy may be in you and that your joy may be complete".

Now, notice this isn't just a command from the Lord, it's a recipe for lasting joy. We know real joy doesn't come from making a lot of money. Real joy doesn't come from a lot of physical pleasure. Real joy doesn't come from our material possessions. Real joy comes from knowing your life is productive. Real joy springs from knowing that you're making an eternal difference in people's lives. When you know you're living out your God given purpose and making a difference in other people's lives, it'll change your outlook on life.

Proverbs 11:25 says, "The generous will prosper, and those who refresh others will themselves be refreshed". And that's what the dream teamers do every day. They serve our churches, ushers, greeters, small group leaders, worshippers. They're in children's ministry, prayer ministry, prison ministry. They show the love of God to our cities through outreaches, serve days, every way they can. They know God, they found freedom, they've discovered their purpose, and every day they're making a difference for all eternity.

Dino Rizzo: Every day is a serve day. If you get up in the morning and you make a decision, "Today, I want to bless one person," I can promise you that it's going to happen. There's going to be an opportunity in front of you to bless.

Kyle Cantrell: I think the most incredible thing I saw throughout this whole time was how our church jumped into action. The amount of meals that were prepared and given out, the way that people became the hands and feet of Jesus to our community through giving out food, through making masks, through going and praying over hospitals. So, through these outreach opportunities, it's really given us the opportunity to go deeper with people. People that don't go to our church or any church, people that don't even know God are now saying, "Listen, you've got something that I need".

Dino: When COVID hit, it's like the whole dream team became an outreach team. The virus has not stopped the dream team. I think it's almost inspired them to reach more people for Jesus Christ.

Jamil Gilleylen: Once COVID hit, we began to mobilize our teams very quickly to start packaging like two weeks boxes of food, over 700 backpacks being assembled for families that potentially could need school supplies for their child. One child's name is Tyler. Tyler, after even receiving the backpack, went home, told his mom after all the compassion and generosity he's seen, he wants to know Jesus more. And he asked if he could be water baptized. We gave the backpack on Saturday. The next day on Sunday, Tyler was in the baptism pool, and he's wanting to share his heart with everyone else to let them know why he decided to be baptized. And with full confidence, he looked me in the eyes, he said, "Pastor Jamil, I just want to get closer to Jesus". And I thought then we have no idea. We thought it was about a backpack, God had a whole new plan for Tyler. Only heaven knows the number of Tylers that are impacted by our acts of kindness.

Christ Erwin: Every act of kindness is a reminder to the person receiving it that this is not about a church, this is not about groceries, this is not about food. This is a moment where God's whispering to you, "Hey, I have not forgotten you".

Dino: To see what's happened at our dream centers have been amazing, and then at our mobile dream center, and then Christ Health Center.

Robert Record: The dream center building has made it possible for Christ Health Center to provide over 10,000 COVID tests. Not just tests, but treatment for people in need, while also taking care of the thousands upon thousands of patients we take care of every month.

Jamil: Make no mistake, we're not the only person, organization doing good here, but we are a thread of the fabric of the portrait that God is painting for people to see him.

Male: Reaching people for the cause of Jesus Christ, making a difference in people's lives, in their families, in their pain, and with their promises. I think the future's bright.

Chris: I hope you've been inspired by today's message. I hope you've not only heard the vision, seen it in Scripture, but also enjoyed the stories that show all of us what God wants to do in us. I hope you have a clear vision of what God wants to do through you as an individual. And I hope you understand the vision God has given us as a local church. And I want to personally invite you to come along for the ride. If you want to grow in your faith, then it's time for you to get in the game. It's time for you to personally take these four steps in your spiritual journey, and I personally invite you to be a vibrant part of your local church and all of the areas of vision that God has given us.

This is our time. Let's continue to serve, give, and especially in this season where so many people are desperate, let's give them something real. And someday, probably sooner than later, we're going to see Jesus. And like you, I want to hear him say, "Well done, good and faithful servant. You've been faithful over a few things. I will make you ruler over many things. Enter into the joy of your Lord". Let's bow for prayer.



Father God, thank you for giving us vision. Thank you for letting us be a part of what you're doing on planet earth. And God, today, we commit our plans to you, every campus, every building, every small group, every student. We ask you for favor and blessing and anointing. God, help us to do your will. God, help us to reach as many people as we can for all eternity. And Lord, thank you for this amazing church. Thank you for their generosity and for their faithfulness. God, we only want to hear you say, "Well done, good and faithful servant". So God, I pray for every person here today that you would light a fire inside of them to live their lives for you. Give them boldness to take the next steps. God, not to put it off, but God, you're going to help every one of us navigate through the journey that you have for us with grace and with blessing. Thank you for what you're doing here today.



Now, just keep your heads bowed and your eyes closed. As I said earlier, if you're far from God and you don't know God, or you just feel lost, but you want to have a real relationship with Jesus, you're going to get that opportunity right now. People ask me all the time, "What do I need to do to be saved"? It's actually very simple. But let's be clear, it will cost you everything. Jesus gave you his life, and he wants the same commitment from you, and you can do that right now in a simple prayer. In just a moment, I'm going to turn the service back over to your campus pastor, who will continue to pray for you and tell you what's next, but I want to lead you through a prayer of salvation right now. So, if that's you, just bow your heads, close your eyes, and say these words right there where you're seated. Say this, say:



Father, thank you for sending your Son Jesus to pay for my sins. I've realized today that I need you, and I can't live my life without you. Forgive me for going my own way. Forgive me of my sin. Today, I change my direction and I repent. Today, I give my life to you. I invite your Son Jesus. (Just say that right there where you are:) I invite Jesus to be the Lord of my life. I believe that Jesus is the Son of God. I believe that he died, was buried, and rose again. Thank you for setting me free. In your name I pray, amen.