Bill Winston - The Priority of Prayer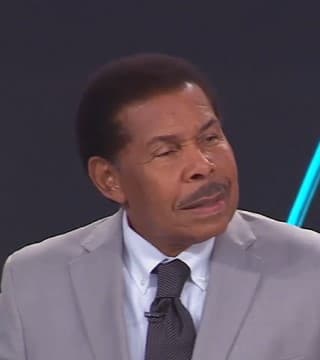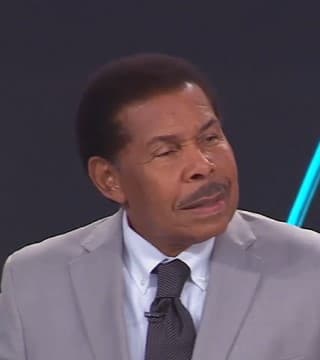 Mark 11 and starting reading here at verse 15, "and they come to Jerusalem and Jesus went into the temple and began to cast out them that sold and bought in the temple and overthrew the tables of the money changers and the seats of them that sold doves and would not suffer that any man should carry any vessel through the temple. And he taught saying unto them, 'is it not written? My house shall be called of all nations, the house of prayer. But you've made it a den of thieves'". Here he says something that the house of God shall be called a house of prayer. So we are gonna call this for the next few lessons. We're going to call it the priority of prayer. There are two levels. There are two realms: the realm of the Spirit and the realm of the natural. If the things be done in the natural, they're going to in a kingdom, they're going to have to be first done in the Spirit.

You're going to have to, there's somebody is going to have to pray and get that done in the Spirit. Even if you're getting people born again, there has to be prayer to birth them first in the Spirit. And I think, the church, I suggested one time that we have a prayer tower and our prayer tower be down at the Sears building. I don't know what they call it now, but it'd be way up high. You know, I just want to put it way up high. Now, I know you can pray in a closet. But I want it way up because my vision was to have churches to all participate and have different shifts and that prayer would go forward 24/7. If you remember, well you've probably known, cause I watched, you know, some Western movies in the Western movies down at the end of the street, there's always a church house and I think it was there to keep down the evil in the city. And if the evil's gonna be kept down in Chicago, it's going to be the church that's going to do it.

See so we've got to this thing plucked up by the root. We've got to go to the root of some of these problems. And the church is a world's only hope. And the reason why is because the church can do with Satan in the Spirit that Jesus said that we are seated far above all principalities and powers and might. Let's go over to Ephesians please. Ephesians chapter six he says, here's starting at verse 10



Finally my brethren be strong in the Lord and in the power of his might put on the whole armor of God that you may be able to stand against the wiles of the devil. For we wrestle not against what? Flesh and blood, but against what? Principalities and powers and rulers of the darkness of this world against wicked spirits, and high places. Wherefore take unto you the whole armor of God that you may be able to withstand in the evil day and having done all to stand. What do you do? Stand therefor having a thy loins girded about with truth and having on the breastplate of righteousness and your feet shod with the preparation of the gospel of peace and above all take up the what? Shield of faith. That's where faith comes in, where with you shall be able to quench all the fiery darts of the wicked and take the helmet of salvation and the sword of the Spirit, which is the what Word of God. Praying always with all prayer and supplication in the Spirit and watching there unto, with all perseverance and supplication for all saints.



Let's just stop right there. But look at that. Praying always. Verse 18 put it up there in the amplified translation. "Pray at all times on every occasion in every season in the Spirit with all manner of prayer and entreaty all manner of prayer". So he's telling you there are different types of prayer and there are different types. Some of them. One intercessory prayer is where you have behind the scenes really getting things done.

I tell people sometimes, I said, you know, I believed that when Jesus start rewarding people, you know, for things that are done in the earth, I think at the front of the line they're going to be a lot of women that you know, were up in age or whatever in their prayer closet. Praying for people like me and praying for people like you. You never saw them, but they're going to be at this front of the line getting some of the biggest rewards, and that's because they understood the importance and priority of prayer. They knew that nothing happened without it, and and so they were interested in prayer. So that was intercessory prayer. You may not have money, but you could spend an hour before God praying for this church, praying for people to get saved, praying for so forth and so on. Your contribution can be prayer and if you're praying right, you'll have some money. You have some money. God rewards a righteous.

The next type of prayer is petition prayer, petition prayer is asking for something and all that's in the Bible as well. In Mark 11:24, "whatsoever things you desire when you pray, believe you received them, you shall have them". Over in Philippians chapter four verse six he said, "be careful for nothing but in all things by prayer and what supplication with Thanksgiving, let your requests be made known what? Unto God and the peace of God which passes all understanding shall guard your hearts and mind through Christ Jesus". The priority of prayer that if you want to receive something from God, he's got to pray it. You've got to believe you've received it when you pray.

Another one is agreement, prayer of agreement and it says in Matthew chapter 18 and verse 19, "And he says to them that if two of you shall agree on earth as touching anything that you shall ask, it shall be done for them of my Father, which is in heaven". It didn't say, "it might". No. See, I can't hear you. It didn't say it might. See, God, Psalm 1:11, God is a covenant keeping God. He'll be ever mindful of his covenant. This whole covenant thing. Look at Luke chapter 11:1, this whole covenant thing. Watch this, and it came to pass that as he was praying in a certain place when he sees one of his disciples said unto him, Lord, teach us to pray. As John taught his disciples, so John taught his disciples how to pray. No wonder he was having all that success. When you pray say, so right there it's not a solid prayer. There is no such thing as a solid prayer.

"Well Pastor, I've been praying, I just praying silently". No you haven't been praying. You've been fooling yourself is what you've been doing. "Our father, which art in heaven, hallowed be thy name. Thy kingdom come, thy will be done in heaven so in earth. Give us this day our daily bread and forgive us our sins as we forgive everyone that is indebted to us and lead us not to temptation but deliver us from evil". And he said to them, which of you shall have a friend, and shall go unto him at midnight and say it to him, friend, lend me three loafs.

Now there's some people think this is a whole another story here. He's talking about prayer and a friend of mine is come in in his journey is come to me and I have nothing to set before and he from within shall answer and say, trouble me not, the door is now shut and my children are with me in bed. I cannot rise and give thee, I said to you though, he will not rise and give him because he is his friend, but because of his importunity he will rise and give him as many as he needed. Let's go to that verse in the amplified. He says, "friend, yet because of his shameless persistence and insistence, he will get up glory to God and give him as much as he needs". Isn't that something?

Now, he not talking about you know about some relative come by and want to borrow, you know, $20. He's talking about prayer and he's talking about someone who needs prayer and he's talking about how prayer is answered. That is not going to be answered just because you are a child of God. It's not going to be answered because of that is you're going to be answered first because you met the biblical rules by which prayer has to be offered and that you understand your covenant that you have right to answered prayer. You have right to answered prayer. See, prayer needs faith like anything else. Over in second Corinthians chapter four and verse 13 look what he says. He says this, we having the same Spirit of faith according as it is written, I believed and therefore have I spoken. We also believe and therefore we speak.

Okay. Now what is he saying? He is saying, wait a second, I've got to believe prayer. I've got to believe that God heard me. I've got to believe that this, this prayer of mine is going to be answered. Look what he says in Matthew chapter nine very quickly and verse 27, When Jesus departed thence, two blind men followed him crying and saying, thou son of David have mercy on us. And when he was coming to the house, the blind men came to him and Jesus said to them, believe ye that I'm able to do this. And they said to him, what? Yay Lord. Then touch he their eyes saying, according to your faith, be it unto you. Watch this. And their eyes were open and Jesus straightly charged them saying see that no man knew it, but they went and blabbed it everywhere.

Now here's, here's what I'm pointing out. First, there was a shameless approach to Jesus. Jesus was going in the house. They come on through the door. The man that was up on that roof, you remember they took that man up there. I told, I call it crazy faith, but they tore open the roof and let the man down. And it's amazing that that shameless approach moved God. See, the word believe has to do with unqualified committal, unqualified, whatever it takes, whatever it takes. See it has no boundaries to it. You know, woman with the issue of blood. What does she do? She pressed her way through the crowd. Here's Jesus, He's walking with the rabbi. He's walking with the head of the synagogue and the head of he synagogue was supposed to order her stoning because a woman with the issue of blood according to the law, shouldn't be out. She should be stoned.

But notice her shameless approach, got her healed. And that's when you can tell somebody who believes. What I'm talking about, the prayer of agreement, the prayer petition, prayer of intercession, all these follow that same shameless rule. And he said, "Hey, he isn't going to give it to you because you're a friend. He'll give it to you because there's a covenant there and that you're going to have to believe that that covenant, you have a right to answered prayer". Not, not, not, "I'm gonna pray for my cousin to get saved and hope he gets saved, I'm going to pray for my daughter to gets saved, and hope she gets saved". Wrong. There is a, it says, "the seed of the righteous shall be delivered". That that's your covenant promise that you and your household shall be saved. I don't care if that boy had been wayward for 20 years, he will be saved.

And I'm saying when people don't know prayer, this is a situation we end up in, and the problem is the church and it starts with prayer. Prayer is joining forces with God. It is absolutely allowing God to work. He needs it. He won't move without it. He going to stay in the bed asleep until you. That of course is just a metaphor, but he's gonna be resting until prayer wakes him up. I'm just saying, no, God never sleeps. But that and I had to learn that mean the enemy came after you know, both my kids, the more so both my daughters more children than my son because really trenching that Word and so forth.

When I had first had my daughters, I wasn't born again, so I couldn't bring them up in it. I brought David up on the Word, but I had to get them in here and that enemy really battle and they go, what am I, the youngest daughter over the hospital, well that next morning they said, we thought she wasn't going to make it. I said, I didn't think that. Shameless. Shameless. Devil, you let my daughter go. Now, here is a scripture and he said, put me in remembrance of what I said and most of people don't even know what God said. Prayer works every time.

When Dr. Young be showing his book goes over there, he said, what does he have, a pastor friend of his and a pastor and him before they went out to dinner or whatever. He said, "Oh, would you pray for her"? He said, "what you need prayer for"? Well, she wants to get married. And he said, "okay, have you been praying for her husband"? She said, "yeah". He said, "Well, how long have you been praying"? She said, "Well, 10 years". Here's what his reply was, what have you been praying? Unheard of. Going over to going over to Luke chapter 19. Folks, we've been letting the devil run off with our stuff and this has got to stop. I said, Luke chapter 19 make it Luke chapter 18 please. Verse one, And he spake a parable into them to this end that men ought to always what? Pray and what else? And not think saying there was in a city a judge which feared not God, neither regarded man.

Now, you know that was a devil and there was a widow in that city. And she came unto him saying, avenge me of my adversary. And he would not for a while, but afterward he said, within himself, though, I fear not God, no regarded man, or regard man, yet because this widow trouble with me, I will avenge her lest by her continual coming, she is going to weary me. And the Lord said, hear what the unjust judge saith, and shall not God avenge his own elect, which cry what day and night unto him though he bear long with him. I tell you that he will avenge them. What? Speedily. Nevertheless, when the son of man cometh, shall he find what? Faith on the earth. It works by faith. And he'll avenge them speedily.

Brother Hagin talks about a time he prayed for his brother and so forth and so on, and when he prayed, just felt a release and that was it. And they called him later on that week, said, Hey, Nahum or whatever his name was, you know, he got saved. Here's what Brother Hagin said, I know it. How did he know it? Cause he what? He prayed. Come on, say it. He prayed because he prayed. He knew it. It's no surprise. First John chapter 5 verse 14, still talking about petition prayer, or could be applied to intercessory prayer. This is the confidence that we have in him, that if we ask anything according to his will, what? He hears us, and if we know that he hear us, whatever we ask, we know that we what? Have the petition that we desired of him.

Look over here. Look at John, John chapter 11. Folks, we got to get serious about the Gospel. John chapter 11 verse 40 let's talk about that. This was Jesus at the grave site of Lazarus, okay. And she, Martha very kindly reminded him that the man has been dead four days. He's thinking, verse 40 makes no difference. Makes no difference. Makes no difference. Never too late for prayer. And Jesus said to her, said I not unto thee, that if thou would believe, thou shall see the glory of God. And they took away the stone from the place where the dead was laying. And Jesus lifted up his eyes. He said, father, I thank you that you have what? Heard me and I know that you hear me always.

Now let me tell you something. Jesus said, the things that I did shall you do also. Now here's what I'm saying, He's showing his disciples how this works. That it's not because he's in this earth as a son of God or son of man as he said sometimes. It's because he was under that covenant. And God cannot break that covenant and that's what Jesus was operating. He was operating under the Old Covenant and he said, father, I thank you that you've heard me. He's talking out loud now. Now Philippians again, Philippians chapter four and verse six and seven, and he said this, be careful for nothing but in everything by prayer and supplication with Thanksgiving. What? With Thanksgiving leave the thanks off you might miss God. I'm telling you the rules. You got to. If you go by the rules, this thing will work every time.

We've got to intercede for the lost that the Holy spirit will not only convict them, but cause them to come to a place where they could hear the word or where somebody would cross your path and talk to them and so forth and convict them. We were raising up our first church in Minnesota. And so here, I was still with IBM at that time, so we witnessed on Saturdays, I've always witnessed and we witness on Saturday. So, we'd go on out, and I was with a guy named Joe. Joe was a policemen as well in Minnesota and so I was out with him. And we went and there was a guy and he was selling hot stuff, hot Watches and you know, hot, hot, just hot. And as he was doing that, something told me, go over there to him. Now you'll see that in the book of Acts where he told Philip, go over to the man and he'll guide you over to him.

See, because he can bring things across people's path. You just can't pray they'd be saved, you pray that God will send laborers across their path, that they'll witness to them in a way they can't resist. And so what happens now is I crossed his path. And I saw him, he said, "Oh, you want to want to buy some"? I said, "Hey, let me show him. That's it. I want to talk to you for a minute". The Joe's center, Joe bought 6'6" so the guy wouldn't do anything to me. Andso I took him and I was gonna talk to him. And as I was starting out to talk to him, I put my hand right on his shoulder right here. When I touched him, it exploded. I've got a witnesses for that. It exploded. It knocked me back, knocked Joe back, and I was... Whoa! Knocked him back against the wall, watches went everywhere.

And so the guy, he came up against the wall, watches were all over the place, and he started gathering them up. I said, "My friend", I said, "What is going on with your life"? He said that, "I used to be a preacher". Man. Wow! He gathered them up and said, "I'm going home". And start walking down that street, just slowly walking down that street, man. That was my experience with the Holy ghost that I saw how he can convict somebody of sin. And so it's powerful that we work with the Holy Ghost. It's him that's guiding the church. You don't guide the church, but his priority is prayer because that's the way that he works on the Sunday after we come in here, that's not the time. The time to pray is before we come in here, because God will round up people to come into the service on that particular day. Angels know how to go get them and they'll wonder how they got in service.

I remember when we came here, we had preaching and projects and so I was preaching in Cabrini Green and I'd done there and so they let me use a basement down there to preach. People start coming down and so forth and I'm preaching. And so, I called for souls and there's one guy in the back, I remember it looked like a gang member or something. And I could tell he wasn't interested in what I saying, it looked like his mother was beside him. You know, their mother dragged these boys in church. And he's looking all away, I mean it was obvious that he wanted to distract me, but just, you know, looking away, you know, but I kept, I ignored it and then I said, "Now you need to be saved". And I said, "I'm a call you now so I can pray for you that you can be saved and come out of your sin and come into the kingdom of God where the Lord Jesus can now provide for you everything you need. So forth. Few words".

And then I said, "So whoever want to be saved, get out of your chair right now and get up here". He was the first one there. I asked him after he confessed Christ, "How did you get here"? Here's what he said, "I don't know". That that's a fact. That's the power of intercessory prayer. Cause we would, we would pray for all these before we went there. See, I wasn't looking for a pulpit. I knew that the assignment God has the church on is to get the lost saved, establish the kingdom of God in every place. See, I knew that. I want, I've never been deceived about the work of the kingdom because I know that the priority that he has is prayer. Now let, let's start to say something here. Let's say say something about this because if you look at Acts... no, first Corinthians chapter 14 verse one, "Follow after charity and desire spiritual gifts, but rather that you may prophesy. For he that speaketh than an unknown tongue speaking not unto men, but unto who? God. For no man understandeth him how be it in the spirit".

He speaks what? "Mysteries". Now what are mysteries, somebody. What are mysteries? Hidden sayings. So you speak hidden sayings. Now put something right there and let's go to Romans chapter eight and verse 26, "Likewise, the spirit also helpeth our infirmities", not diseases. That means weaknesses. Meaning you don't quite know mentally what to do. "For we know not what we should pray for as we aught, but the spirit itself make it intercession for us with groanings which cannot be uttered". Next verse, "And he that searches the hearts no with what is the, is the mind of the spirit because he maketh", what? Intercession for who? The saints. What? According to the will of God. So when I pray in the spirit, among the other things that I'm doing is I'm making intercession for the saints.

Now understand nothing happens with God unless somebody prays. So now I don't know what to pray for as I aught, but I'm going to make intercession here for the saints. And over in acts chapter 12 he, here's Herod. Let's start at verse four, "And when he had apprehended him, Peter, now he put him in prison and delivered him to four quaternions of soldiers to keep him. Intending after Easter to bring him forth to the people. Peter therefore, was kept in prison, but prayer was made without ceasing of the church unto God for him. And when Herod would have brought him forth the same night Peter was sleeping between two soldiers bound with two chains and the keepers before the door kept the prison. And behold, the angel of the Lord came upon him and a light shined in the prison and he smote Peter on the side and raised him up saying, 'arise up quickly.' And his chains fell off of his hands".

Now as you go on down, you'll see in verse 10, "And when they were past the first and the second ward, they came unto an iron gate that led unto the city, which opened to them of his own accord. And they went out and passed on through one street and forthwith the angel departed from him. Now Peter goes to the house where they're praying and when he had considered the things, he came into the house, Mary, the mother of John, whose surname was Mark, where many were gathered together, praying. And as Peter knocked at the door of the of the gate, a damsel came and hearken named Rhoda. And when she knew Peter's voice, she opened not the gate for gladness but ran in and told how Peter stood before the gate and they said unto her, 'You are mad.' But she constantly affirmed that it was even so. Then said they, 'It is his angel'".

There's a bunch of unbelieving believers. "But Peter continued knocking and when they had opened the door and saw him they were..". What? "Astonished". It's amazing. They didn't use the word astonished when it talked about Rhoda. They used astonish when they talked about that other believing bunch. You see when you really pray effectively you expect what you pray to come to pass. If you really are really sincere about what you're praying for. So it's interesting here how Peter was going to be killed the next day but they prayed him out. Now, that's the same way you can have a report that somebody has now from Living Word has been taken to hospice, because in the natural there is no hope, but how the church can pray and whatever satan has desired to do with their life cannot be done. That you can pray.

In this case, the pastor out of a dilemma, that somehow because of his witness, he got into and he needs some backup prayer. But if you got people who don't see prayer as a priority, a kingdom minded person. That's why you can go overseas and it's so easy to preach because they have not been civilized out of spiritual things. They counted that the most important thing to them is to be blessed. I mean many times. Because I've, I've seen it, I'm here, get off the airplane and people want to get blessed handling luggage. God came in, like I said, fixed our, put a new water dishwasher, you know, we needed a new one. We got a new one, but he came in to examine the old one. He said, you're going to have to get a new one here.

So my wife said, okay, we'll button it up. My husband's going to be here when you leave and then, and you'll sign the paperwork. Then he, so he called me to, to good sign this sir. Yes sir. He said, uh, sir, before I leave, could you bless me? He gets down on his knees. Can you bless me? Now, now. But he was from another country. He hadn't been intellectualized out of the power of God that comes out of your heart. They knew it. And that's why their prayer is so effective. People like Lester Summerall and those people. He said the devil moved his bed and he got up and saw that and he said move it back. And he did. Luke chapter 14 verse 26, "If any man come to me and hate not his father and mother and wife and children and brother and sister, yae and his own life also, he cannot be my disciple".

All right, let's have the CEV and see what he says. "You cannot be my disciple unless you love me more than you love your father and your mother and your wife and your children and your brothers". And so one man said, the worst thing you want to do is put your child between you and God. You bought to get that child hurt. Cause God will have nothing between you and him. I want you to, you've seen the term that he used, he use hate. See, Jesus said some stuff that the diciples said, Hey man, can we say here, man, I better go back to the house. No, you know what he's looking for. He's looking for selling out and a lot of times people are not getting the results of things. Prayer, seed sown, so forth. The heart is not there. He said their mouths are saying the right thing but their hearts are far from me.

Going over to John chapter 15 verse one, "I am the true vine and my father is the husbandman. Every branch in me that beareth not fruit, he taketh it away and every branch that beareth fruit, he's going to prune it or purge it that it may bring forth more fruit". Do you realize a chicken, little chick, that that chick has got to peck their way out of that egg? Do you realize if they don't Peck their way out of that egg, their system of circulating blood or what's in them will not develop. That their strength will not even develop. If if a butterfly, a Caterpillar turning into a butterfly, if he doesn't struggle to get out of that cocoon, his wings won't be strong enough to hold it.

There are some places that God brings you through to develop you, so that you'll be strong when you get on the outside. Every branch in me that beareth not fruit, he's going to take it away and every branch that beareth fruit, he purged it that it may bring forth how much fruit? More fruit. "Now you are clean through my word, which I have spoken unto you". Next verse "Abide in me". This is one I want you to see, "And I in you as the branch cannot bear fruit", come on, "of itself except it", what? "Abides in the vine". No more can you except you abide in me. Let me give you another word for abide. Depend on. Wow. Depend on. Now you think about this. If I've got a branch and it's for some reason that branch got half broken off and it's all is just hanging on.

Now understand that branch gets its food source and everything from the roots that come up to the vine and feed the branch and out on the branch of fruit. So if I want those fruit to be healthy out there, I've got to get the branch firmly attached to the vine. Am I right? And when people don't depend on God and so forth, what happened is they're not firmly attached. So now you ask what you will and it won't be done for you because you're not abiding. If you follow in the Holy ghost, he's gonna keep you with something that you will have to depend on him for. That's if you're following the Holy spirit. If you are not, you only have it. You'll just come to church, shout and run out. But God wants you to bear fruit. And fruit is a result of the word of God. Are you following what I'm saying?

So I had to learn this, and he's keeping me out there, "Lord, again"? Yeah, because I'm gonna have you bear much fruit. Because in the end is going to be all me and none of you because right now we want to participate. "Look what I did"! No you didn't do that. See there's still some "I" in there so we're going to give you another project cause you, you still don't... Eventually is going to take you to getting a car cash. These will take you. There you go. Take you that car. He's going to develop you. He's going to make you a disciple and disciple is one who becomes like his teacher. You going to be looking just like Jesus and there's nothing wrong with that, if that frightens you, then you need to get saved. But you, he said, if you love me, what do you do? You keep my word and my word.

If you do it, it's going to cleanse you. It's going to keep cleansing you of all the hostility, all the racism, all that. You keep our word, it's going to keep cleansing you of all dependency on the world, on your job and so forth. It's going to keep cleansing you. until eventually you go look Jesus. Isn't that good? Prayer, intercessory prayer, it's a prayer that is formed out of a heart of love, mercy and compassion. Let's pray for sister. Let's pray for... She looks like she's in trouble. Let's pray for her. Let's get up in the morning and call each other at six and, and pray for the church. No, no, no, no, no. Devil keeps you occupied so, so forth and so, no can't pray. Here's what Jesus told them. He went, he was in his worst hour and then he went just a few steps away and came back and the disciples were asleep.

You ever heard the expression, "Pray my strength in the Lord". That's what he needed. The Bible says, "Our father, which art in heaven, hallowed be thy name. Thy kingdom come, thy will be done in earth as it is in heaven. Give us this day our daily bread. Forgive us our trespasses as we forgive those who trespass against us and leave us not in temptation". Deliver us. Sometimes you need somebody to come along side and just pray. People been so tied up. I'm too busy to pray. It's not a priority. God said, "I want you to teach my people, and my house shall be called a house of prayer.