Beth Moore - Strong Sisters - Part 1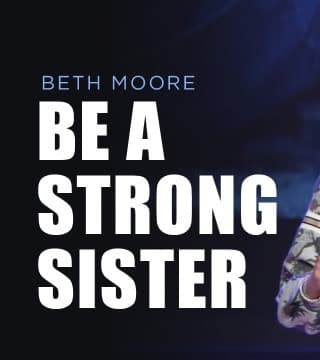 In the glorious name of Jesus, everybody, say, "Hallelujah and amen". You may be seated. You're in the book of Ephesians. I want to go to three different places in it with the intention of showing you a pattern in it that is absolutely magnificent. So you're in... what book, please? You're in Ephesians. I want you to see with me three different segments. One is going to be in chapter 1, one is going to be in chapter 6, and one is going to be split down the middle toward the end of chapter 3 of Ephesians. Why this is significant is because in this gorgeous work of the Holy Spirit through the apostle Paul, maybe unmatched among the other letters, I mean, it is just a masterpiece as all of them are, but this one is so obviously a masterpiece. In this book, we're going to see that very early on he begins to talk about divine strength in chapter 1. I'm gonna read it to you. He ends it in chapter 6, and he says it again right in the middle, and there are two common denominators I don't want you to miss. The first one is he's gonna talk to us about divine power.

Look at Ephesians 1. I'm going to read verses 15 through 20: "This is why, since I heard about your faith in the Lord Jesus and your love for all the saints, I never stop giving thanks for you as I remember you in my prayers. I pray that the God of our Lord Jesus Christ, the glorious Father, would give you the Spirit of wisdom and revelation in the knowledge of Him". Lord, we want that today. Somebody, say, "I want that today, Lord. I want the Spirit of wisdom and revelation in the knowledge of you, Jesus". "I pray that the eyes of your heart may be enlightened so that you may know what is the hope of his calling, what is the wealth of his glorious inheritance in the saints, and what is the immeasurable greatness of his power toward us who believe, according to the mighty working on his strength".

I want you to hold here before we look at the one in 3, and then the one in 6, for just a moment, and I want you to see the impact of it because, in this verse, in verse 20, goes on to say that, "He exercised this power in Christ by raising him from the dead and seating him in the heavenly realms". But I want you to see that, in this one verse, in verse 19, we're going to see that the apostle Paul is literally stacking all these different words for power right on top of one another, and he says it is "incomparable," this "incomparable power". You may see in some of your translation the "surpassing greatness," this "surpassing power". It's a wonderful word, the lexical word, that "hyperballon". "Hyperballon" is a word that means... I always think of it with "ballo". I always think of throwing a ball because it's something to be "cast beyond," and that beginning of it looks like our "hyper".

So imagine with me if a baseball was hit by a batter, and it went not only out of the park, but it went into an entirely different stratosphere altogether. It literally left the atmosphere of earth and went out somewhere that we could never find. He said, "Here's what I need you to understand: You don't have anything to compare this to. You have nothing in this sphere of what can be seen with your eyes to compare with the strength of God, but what is so important here for you to see is, not only does he have incomparable strength, but it is availed to us". This is what I want us to get today. This is what I think the Holy Spirit's trying to get into our bones is this kind of strength. We have access not just to our strongest human strong that he'll make me my strongest... no. The Word of God says this incomparable power that belongs to God alone, it's actually his, is made available to us, and we're gonna see the ways that that comes alive as we study together. So I want you to see all four of these words. I love it.

I've got one out of a commentary written by F.F. Bruce, where you can hear the words a little differently than in some of our translations 'cause I want you to hear the four different words for "power" here. It says, and I'm quoting his translation, "The surpassing greatness of the power of God in the lives of believers, according to the operation of the strength of his might". Four different Greek words, and so different commentators say different things. Some of them say the point is not to distinguish between the four of them just to see that he's piling these synonyms up on purpose, so there's that. Another commentary, expositor, says, "Okay, if we're gonna break it down to what these four... if we were to distinguish between them, here is what they would mean". Dunamis is capability or potential. That's the word you see as power. It is capability or potential. Energeia is effective and operational power. Kratos is power exercised in resistance and control. Ischys, used of bodily strength and muscular force, is inherent, vital power.

So I just ask you, is there anything he's leaving out there? I mean, he's just stacking them up, one on top of the other. So he begins the letter very shortly in by telling us he has incomparable strength, and it is availed to believers in Christ. And just, so, to give us some pictures since we have nothing to compare it to, he says, "Here, here's what I'll tell you". This is the same power he used when he raised Jesus from the dead. So the inference is "Listen, if you need anything beyond being raised from the dead, you know, then you might be on a hunt here, but anything within or including that, you are good to go because it's right here made available". Okay, very familiar words in Ephesians 3. I realize many of you have seen it lots of times. Others have never seen it before, and I want you to let it have fresh weight on you today.

Ephesians chapter 3:14-21, "For this reason I kneel before the Father from whom every family in heaven and on earth is named. I pray that he may grant you, according to the riches of his glory, to be strengthened with power in your inner being through his Spirit, and that Christ may dwell in your hearts through faith. And I pray that you, being rooted and firmly established in love, may be able to comprehend with all the saints what is the length and width and height and depth of God's love, and to know Christ's love that surpasses knowledge, so that you may be filled with all the fullness of God". These are familiar. "Now to him who is able to do above and beyond all that we ask or think according to the power that works in us, to him be glory in the church and in Christ Jesus to all generations, forever and ever, amen".

Anybody gettin' that with me? That it would be strength in your inner being to live out on this earth. Now, I want you to look at the end of Ephesians, Ephesians chapter 6:10-13, "Finally, be strong in the Lord and in the strength of his might. Put on the whole armor of God, that you may be able to stand against the schemes of the devil. For we do not wrestle against flesh and blood, but against the rulers, against the authorities, against the cosmic powers over this present darkness, against the spiritual forces of evil in the heavenly places. Therefore take up the whole armor of God, that you may be able to withstand in the evil day, and having done all, to stand firm". At our strongest, in our fleshly strength, I mean, at our best commitment, everything you can think to work up, I mean, everything you could possibly read, you could get every kind of podcast that would build you up, and just come to it with everything you have in your humanity, and he's sayin' somethin', he said, "You know what"? And I think about Psalm 18, that says, "You rescued me from a foe too powerful for me". He's goin' like, "You can't begin to fight him. You do not have what it takes".

If you're gonna walk in victory in an evil day, it will be because you are strong in the Lord and in the strength of his might. What I'm gonna tell you today is that we look at passages, most of us look at passages like these as almost aphorisms. They make us feel good. They are the kind that we post on Instagram. They cheer us on. They encourage us, but, no, are we actually availing ourselves to them where this becomes our reality? "Lord, I give myself to you, laying down my human strength and asking you to overtake me with a power that is beyond me". That's what it's gonna take. With the best of our trying, the best of our resolve, the best of our determination, it's not going to be enough. We're wearing ourselves out, stressing with all the pressure to do it ourselves, and he's going like, "It's not gonna do. It's gonna be me overtaking you with my power daily through crisis, through long-term suffering. It's going to take me".

I want you, just for a moment, all of you, each one participating, I want you to close your eyes for a moment, and I want you to close your... I'm gonna tell you when in just a second. I'm gonna have you close your ears. You know, put your fingers in your ears like this in just a moment because, when you talk, you can hear yourself almost from the inside instead of the outside. And here's what I want you to say to yourself in just a moment: "Be strong in the Lord and in the strength of his might". This is what you're gonna say. You're sayin' it to yourself: "Be strong in the Lord and in the strength of his might". I want you to close your eyes and close your ears, and I want you to say it to yourself: "Be strong in the Lord and in the strength of his might". Say it to yourself again: "Be strong in the Lord and in the strength of his might". This time, I want you to put your name in it, so, "Be strong in the Lord", and say your own name. "Be strong in the Lord, Beth, and in the strength of his might".

See, this is said to you. It's said to me, to take it personally, "Be strong in the Lord and in the strength of his might. Be strong in the Lord and in the strength of his might". Our point today, we're going to talk about being faithful disciples of Jesus Christ, and in order to do that, it is gonna take a strength that is not ours. We're gonna just completely avail everything we have in our strength, just avail it to him, and we are gonna invite him and get in the mind-set where this is how we live. This is not what we do at events. This is not what we do in one big crisis. This is what we are gonna begin, this is how we're gonna start operating, if we're willing to, in a might that surpasses what we could possibly come up with.

I'm gonna tell you one of the things that I've found deeply, deeply moving and troubling. I want you to see a graph, a diagram of something, and I'm gonna tell you where it comes from in just a moment. I want you to look at the rise in the last several years of depression and anxiety among teen girls. This is 12- to 17-year-old girls reporting past-year major depression. I want you to see that females leading out... do you see that top one? Females leading out, those that were surveyed in the increase of depression and anxiety. This comes from a new data from a National Survey on Drug Use and Health. It's results from 2018, and they were just published recently. I've got a couple of different articles here.

This one, it was written on September 7, 2019, just here recently, and it says this: "Nearly 15% of American teenagers experienced major depression in 2018, new data show. This figure represents a sharp increase from just six years ago, with adolescent girls in particular, seeing a substantial jump in their reported rates of depression. The report reflects yet another frightening indicator of America's teen mental health crisis". This particular article is from Pew Research that brings it then into our Christian world from our perspective, and it was written and published on July 12, 2019, and I'll just simply tell you what the title of it says and what the first little paragraph says: "A growing number of American teenagers, particularly girls, are facing depression. Depression has become increasingly common among American teenagers, especially teen girls who are now almost three times as likely as teen boys to have had recent experiences with depression".

I want you to hear one more little portion of it on the very last page of it: "Seven in ten U.S. teens said anxiety and depression is a major problem among people their age in the community where they live. It says that, according to Pew Research Center Survey of Teenagers, ages 13 through 17, conducted in the fall of 2018, an additional 26% cited anxiety and depression as a minor problem". So listen to me carefully because they went through all sorts of things: social pressures, as you can imagine, pressures for good grades, all kinds of things. And, listen, I wanna make very, very clear here, there are numerous causes for depression. The only thing I'm singling out right now is where sociologically we are seeing a rise in the anxiety and stress among our teenagers, particularly our girls, because of the present world we live in.

So separate those two, if you would, because there's all sorts of reasons why someone might deal with depression. I'm talking specifically how has our world made our teenagers more and more anxious, under more and more stress, and getting more and more depressed? Because, let me tell you something, it is our direct responsibility to do everything we can in Christ to be a big sister that our little sisters can see, who live in a strength that is not their own, who lived with a joy that is other-worldly in a very messed-up world, to raise these girls up, and I'm not just talkin' about you, who are our mothers or grandmothers. I am saying, generationally, each generation is to bring up the next generation. We're to help them along because our girls are in crisis, and they need their sisters, and we need them.

So two things, you know, I just think part of it has got to be the social media frenzy. I mean, we live in a world where, I mean, like, very, very publicly, you are liked or disliked, very publicly talked about. They don't know what's gonna show up in a picture and who took it. This wild world, it's always been a scary world. It's been a scary world ever since the fall in the Garden of Eden. But let me tell ya something: This scary world now with the information age, we know a whole lot more about just how scary it is. We have so much access to a number of ways that it is terrifying. So today is about two big things that you and I, that each one of us, would step it up in a very deliberate, faithfulness as disciples of Christ, availing ourselves to a supernatural strength but also becoming strong sisters to our siblings in Christ, so everything we're doing today, this is where it begins, how to be a strong sister. You could jot things down if you like to take notes. This is where we start it, how to be a strong sister. You and I are gonna be challenged by four steps.

How would we do it? What would be four big steps we could take today? And I'm gonna tell you something: If we would do more than take 'em down on a page, and we would really take them up in our bones, the results of our meeting today would be cataclysmic. It would literally change the needle on the graph that, if we really did follow through and take these four steps in becoming faithful disciples of Jesus Christ and being strong sisters to our siblings in Christ, let me tell you something, there's no measuring it. There's no measuring it. Number one, I wanted to start right here, and I want you to take this one down. They're all very brief points. I wanna get very brief and to the point. I don't wanna be complicated today because I want this to be something that we would know in our sleep by tomorrow. Number one, share your space. Share your space. I cannot even say to you today I am going to probably at times be a little bit over the top, and it is because I feel so strongly about the material.

You need to know I'm not fussin'. I'm, just, I am riveted by the state that our world is in, and I am electrified by the possibilities of what could happen if we took our place. Any of us that had more than one child, we could easily tell you that there are two things that we want out of our kids that are siblings more than anything else. We want them to love one another, and for crying out loud, we want them to share. Anybody know what I'm talkin' about? "Why can't you share"? Because everything in the household in our natural flesh is "mine, mine, mine, mine". Well, listen, "mine" has never been a bigger word than it is in our current culture because we, literally, we are mass producing narcissists. I mean, y'all, try to wrap your mind around this.

I realize that this is so common to us now that it's normal, but there really is nothing normal about it that most of the pictures we take are of ourselves. And, no, no, no, let's not let that, like, that was, we knew far, no, no, no. Take that in again. What has happened to the mind-set when most of the images we take are of us? Because "It's mine, mine, mine, mine". You and I are called to a whole different mind-set, an entirely different mind-set. Here's what, listen, I think God wants to do something with this. I think this is more than a point that is in a simulcast outline. I believe that it's possible God wants to start something with us today, and imagine, I have no idea how many ten thousands of us are together today, but imagine if it took, just to share our space...

I want somebody to say, "Girl, share your space". Oh, say it again. Say it with some attitude: "Girl, share your space. Share your space". What does this look like? Okay, what I'm saying is make room in your life for sisters in Christ. God's been calling me, "Beth, make more room. I mean, physical space in your life for your sisters in Christ," even to the point of movin' something out to do so if that's what we need to do. Listen to me carefully: We gotta get our sisters back in our homes. And, you know, I love social media. I even think there's somethin' legit about it. There can be. I think communities that meet alike can have effect. I think all of that, but what I'm telling you, we need to be in their lives, makin' space to get back in to working in children's church, in children's Sunday school, in adolescents' Sunday school and church, getting back in it with them, sharing the space of our lives, getting our sisters back in our homes, back across our tables, back across the coffee table at Starbucks.

You know, if you say, you know, "I don't have, I don't know what I'd give," listen, you get together, and you just start givin' what you have. And I find over and over again, so many young women that feel, I don't know a better way to say it, "orphaned" in the faith, I told some of my coworkers, I said, "I'm finding that there are young women in the faith that not only want to be mentored", it's the number one need I see, but what I begin to figure out after a while is, you know, they are also wanting to be mothered. To be mothered. You don't have to be a mother in a natural sense or under the roof of your home to be a mother to someone in the faith, to just come alongside them but, just, like, encouraging one another in the faith. Somebody, say, "Girl, share your space".