Beth Moore - The Key to Fruitful Living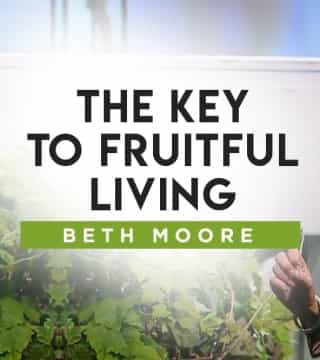 Be seated. I'm gonna read one more time through John chapter 15, but this time I'm going to read through verse 17, instead of verse 11, because we're gonna tag a little bit more to it in order to end it where it needs to be ended. Now, what I want you to do is, if you would please, would you repeat to me. You're getting out your notes, I want to hear one through five.

Number one, "The vinedressers work".

Number two, "A vineyard without the vine is just a yard".

Number three, "The divine gardener appointed great rejoicing over grape harvesting".

Number four, "The saying still goes, struggling vines make better wines".

Number five, "Productive vines learn to climb what they're up against".

Anybody got any new perspective, anything that's sewn in a little different attitude going back out of here? Because when we're up against something, we're gonna learn to climb it. We're gonna know we got to have the life force of the vine in the branch and if we will, nothing will be impossible for us. What God has called us to do, he will accomplish through us and we, above all people around us, will know, listen, that was not me. That could only have been God himself.

Now, going back to John 15, I'd like to read verses 1 through 17. "I am the true vine, and my Father is the vinedresser. Every branch in me that does not bear fruit he takes away, and every branch that does bear fruit he prunes, that it may bear more fruit. Already you are clean because of the word that I have spoken to you. Abide in me, and I in you. As the branch cannot bear fruit by itself, unless it abides in the vine, neither can you, unless you abide in me. I am the vine; you are the branches. Whoever abides in me and I in him, he it is that bears much fruit, for apart from me you can do nothing. If anyone does not abide in me he is thrown away like a branch and withers; and the branches are gathered, thrown into the fire, and burned. If you abide in me, and my words abide in you, ask whatever you wish, and it will be done for you. By this my Father is glorified, that you bear much fruit and so prove to be my disciples. As the Father has loved me, so have I loved you. Abide in my love".

In a Q&A not very long ago, a woman asked me the most interesting question. She said, "What is the knot in your rope"? And I knew what she meant. I knew that she meant, if you feel like you're free falling, if you feel like you're just sliding down, I mean like you are about to drop in to a deep well, what is it that you grab onto that is the last thing you hold on to? That you're knot and on that, you can hold for the rest of your life. And I knew, I knew. And it's this first right here and it's verse 9 of John 15. This is the knot in my rope. "As the Father has loved me, so have I loved you, Abide in my love". I want you to let that just settle with you before we read to verse 17 because, do you understand what he's saying? Listen, "I want you to understand the quantity and quality of my love for you. As my Father", this is Jesus talking, "As my Father has loved me, that is the same way I love you, now live in it".

Live in that love, live in the constant and ongoing awareness that above all else, when you know nothing else, you know this, Jesus loves me, this I know, for the Bible tells me so. My Jesus loves me. Then when that pressing comes, when that crushing comes, I've gotta know, I've gotta know above all, listen, I don't know what's going on here. I have no idea what is happening around me. It seems like this is nothing but madness, but I know this, my God loves me. I can think about times in my life when I felt like, I think he tolerates me. Anybody? See, we're never gonna get through this that way. And what I began to see, you know what changed it for me? When I began to understand that that was an insult to him. That's not a mark of humility. That's not, "Oh, bless her heart". That's nothing for us to feel sorry for one another. That is an insult to God who says, "Okay, I'm trying to figure, what more could I do? I gave you my Son. What more could I do"?

Now, I've told this before and maybe you've heard me say it before, and forgive me for being repetitive if you have, but it was major for me that for a time, when I was really struggling with it, and was so down on myself, and I go kind of back through that. Self-loathing was very... when you come from sexual misconduct, and abuse, and misuse, oh, all the, all the shame that goes with that and all the self-hatred. And yours may have come for a different reason. Maybe it's come from addiction, maybe it's come from body shaming, whatever it may be. But you know what that's like to get so where you just feel like you hate yourself. And I can remember making just terrible decisions. And then, I would just look in the mirror and go, "Why are you so stupid"? Am I relating to anybody?

Many of you probably can't understand, I hope you can't understand what I'm talking about, but that was a lot of my life, just struggle with being alive and drawing breath sometimes. And so, for a time, for a season, the Lord really trained me to say to him, 'cause I would tell him constantly in prayer in my journal, "Lord, I love you so much. I love you so much. I love you so much". Now, this is always interesting when we think that we love him, but we're not sure he loves us so we're gonna outlive God. Whoo, hoo. I mean, aren't we, aren't we something? We should have been God the first place, you know? So, it's just like that has some kind of, of nerve to it. But God trained me for a while, and I still do it sometimes that when I would say that to him, which was often, that I'd always put a T-O-O on the end of it, that I would say to him, "I love you, too. I love you, too". Because it would train me to know that I love him because he first loved me.

That's what John's letter says. We love him because he first loved us. Every single time your heart overflows with the sense that you love Christ, it is a love that is an answering love that was initiated by Jesus himself. The fact that you can love him and I can love him comes from the fact that he has loved us. And I don't know if that helps anybody, but it was a really big deal to me. Picking up at verse 10. "If you keep my commandments, you will abide in my love, just as I have kept my Father's commandments and abide in his love. These things have I spoken to you, that my joy may be in you". He's saying, "Listen, your obedience to what I tell you to do, you abiding in my love. These are things that bring you joy. My words abiding in you and you abiding in me, that this brings you joy. This is not to burden you. This is to bring you gladness". "These things I have spoken to you, that my joy may be in you, and that your joy may be full". Go with me from 12 to 17 now. "This is my commandment, that you love one another as I have loved you".

Now, do you remember because he said, "As my Father has loved me, I love you. As I have loved you, now you love one another". Are you watching this? Watch this thing in this contagion effect where he says every bit of this is to be a chain reaction of love. "Greater love has no one than this, that someone lay down his life for his friends. You are my friends if you do what I command you. No longer do I call you servants," verse 15, "for the servant does not know what his master is doing; but I have called you friends, for all that I have heard from my Father I have made known to you".

Verse 16, listen to it, let if go down deep, "You did not choose me, I chose you". Is that profound or what? When I'm all apologetic and going like, "Lord, I'm telling you something, I wish you could do better than this," you know what I'm saying? "I mean, it looks like you could do better than this. You could pick somebody else". And all this that we have on us when he's going, "It occurs to me you need to hear afresh. You did not choose me, I chose you". He chose you. "You did not choose me, but I chose you and appointed you that you should go and bear fruit and that your fruit should abide".

Remember that we talked about it because I thought it was the neatest point that the vine does not produce grapes until the third year. He's at the end of that third year. He's just about to be arrested and go to the cross. This is part of that farewell discourse in the Gospel of John. And this is when he calls him to the fruit bearing, and he's using the imagery of the vine that is, I mean it is beautiful imagery that is used many, many times in the Scriptures. And he's saying the fruit that will last... Now, here's what I want to throw out to you about the images that we have and our visuals that we have up in front of us because we got our table grapes, our ripe grapes that can be eaten right then. Then we got a little bit later, we got our raisins and then we got the wine. And I want you to understand, when it gets expensive because remember, these are affordable, but it starts getting expensive by the time that fruit is gonna turn into something that somebody could be sipping from 50 years after you're dead.

Remember these are affordable, but it starts getting expensive by the time that fruit is gonna turn into something that somebody could be sipping from 50 years after you're dead. That the waiter, the host of the table, could say, "Oh, I got a bottle". Now, they'll have no idea, no idea. I just want to draw your little picture. Would you just go with me just for a little bit of imagery here? This is vintage Sydney right here. Vintage Kathleen right here. You have no idea that you are sipping from some of the fruit of her labors in your church, in your workplace, in your neighborhood, something that you sowed into a community when you were working, laboring in the unseen places for the poor, and you went to the expense of fellowshipping in the sufferings of Christ through the crushing seasons.

And you think you're just gonna die in your anonymity. And that's all right because there's just one name above all names. But then, that 18 year old who started getting cleaned up under your tutelage and your love, who was held in safe arms for the first time because you helped her on the streets. Then she's raised up into a mighty teacher of God's Word, and no one under her tutelage has any idea that they are sipping from the longterm fruitfulness of a woman whose name nobody knows. I don't know. That appeals to me, that appeals to me. Years later, fruit that will last. 17, "These things I command you so that you will love one another. All is lost if the love of the vine isn't tasted in the fruit and the wine".

Okay, now listen carefully because it makes sense to us. You remember 1 Corinthians chapter 13 when he says, I'm just paraphrasing here. "You can have all the gifts in the world. I mean, you can, you can prophesy like nobody in your generation. You can be so gifted, you can be so talented, but if you don't have love, it sounds like nothing to me. It's just clanging cymbals to me. It's just noise to me". That as we minister, you and I are being called to go out there and bear much fruit showing ourselves to be Christ's disciples. But he says this, if the love of the vine can't be tasted in the fruit and the wine, we might as well have saved our breath. And this is why, friends, we have to fight for love.

Listen, in these days in which we live, you fight to keep your heart in it. We fight to stay in this battle with our hearts intact so that we can love people that above all else, they will know that in the name of Christ, we came to them, we ministered to them, we serve them in love. It is paramount. It is everything. It must be tasted in the fruit and the wine, or it's not conveying the vine. He said, "As my Father loved me, I love you. As I've loved you, so you love one another".

Now, you go out, he even said listen, he covered it. He even said love your enemies. So, I mean, there's just like, love one another, love your enemies. There's just love, love, that's it, that's it, love, love. Well, remember when he said, "Abide in my love"? Do you recall the gorgeous portion, if you're familiar with it in Ephesians chapter 3, that talks about how the breadth and length and height and depth of the love of Christ that it is beyond, that it's immeasurable, that it's to know the love of Christ which surpasses all knowledge that we may be filled with all the fullness of God. It says and you, being rooted and grounded in love.

So, when he talks about abiding, see, it's not selfish for you to remind yourself every single day before you ever see another soul, "I am loved by God. I am known by God. I'm accepted in the beloved. I'm valuable today. No matter who tells me that I'm not, I'm valuable today. No matter who treats me like trash, I am the treasure, the apple of my Father's eye". You need not think that there's something about that that is amiss or untowards. It is appropriate that we abide in his love. Vines can grow roots, very often, an average of 20 feet, but they can go down as low as 50 and 60 feet. I want you to just try to get that with me. And many vines are hundreds and hundreds of years old. Try to get this with me. Try to think in terms of a building that would be like five stories tall.

Now, reverse it underground and think what it would be like to deep, to root so deeply in the love of Christ. What could pull you out? What wind, what plow, what earthquake, what could pull you out? Because you are grounded so that you are so convinced that you are loved by God that nothing can pull you up, absolutely nothing, that no matter what happens, you don't understand it. You can't explain it. You're brokenhearted by it. You feel completely crushed but you know this, I am loved by God. I can tell you that. I don't know why this is happening, but this is not a lack of love. I am completely loved by God. Roots down deep. Listen, when we know that, we will love. It's the same way that when we know we've been greatly graced by God, we grace people.

What I believe God wants to do, maybe, I want you all to pray through it, is in the vineyard, what's coming from the vineyards of the west. It's not characterized by pretty. It's not characterized by piety. And what I mean by that, I mean, man, we want to be godly, but it won't be self-righteous and high. Anybody know what I'm talking about? This is very, very important for you to hear. I believe it will be characterized by purity, purity. Now, when I say purity to you, I don't mean just morality. Of course there's that, of course there's that. We want to turn from sin and get out of our bondage, and get out of a bunch of junk so that God can sanctify us and do wonders among us. We want all of that. We want all of that, but I think it's a different kind of purity than that. I think it's that pure-hearted, single-minded devotion that Paul is talking about in 2 Corinthians 11:2.

Now, I kept thinking, I kept going back to God going okay, we're does purity play into this? Jot this down, but this is kind of the reverse of it but it'll make the point. Jeremiah 2:21 says this, God speaking to Israel, he said, "Yet I planted you a choice vine, wholly of pure seed. How have you then turned regenerate and become a wild vine"? I believe that there may be a call on the church of the west to purity, that if you would receive that call, step into it, turn from a bunch of degenerate junk, turn from idols, turn from lesser things and just bring a heart. You know where purity begins? Purity, again I want to say to you, it's not sinlessness. It's not even high morality. I mean morality, yes. Purity means more than that. It means, Lord, you have my heart, I'm completely yours. I cast down every other idol. I'm in it. And it's true. It's true, that wherever I minister, whatever I do, whatever, whatever you give me to do, however, it'll be true.

I will not put myself out there as more than I am. I will not be ingenuine. I will be true. I will be true. That's purity. That's purity. Listen to it so beautifully in 1 Peter 1:22 and 23. "Having purified your souls by your obedience to the truth for a sincere brotherly love, love one another earnestly from a pure heart". There's so much impurity of heart in the church today. What would happen if the church of the west just sought an awakening of purity of heart? What would happen in Texas, what would happen in Florida, what would happen in Kentucky and Maine if the people of God pursued purity of heart? "Because you've been born again, not of perishable seed but of imperishable, through the living and abiding word of God".

I want you to stand to your feet and I want to speak this Word over you. I believe God wants to do something so profound through this part of the country. And I think that it will involve a returned things like the spiritual disciplines of prayer, of Bible study, of fasting, meditating on the Word of God, going back to the practices of the ancients, but also with the current passions of justice for all, of worship and praise, of good works. Purity of heart in obedience of life, what would happen? What would happen if you just purely walked in obedience, not in perfection, not in high piety, just obedience? I think a vineyard would produce fruit from the west that would begin with a trickle of wine, that would turn in to a faucet, that would turn in to a stream, that would turn in to a river, that would turn in to a wave. And I believe you could be part of that, and I want to live to see it happen. Anybody know what I'm talking about?

Remember Luke 22 when Jesus is sitting with him at the table. "This wine, this cup is the new covenant of my blood. Take it among yourselves". And he says, "I will not drink of the vine again until I sit with you in the kingdom". What a wild thing. Isaiah 25 says, I've got chill bumps all over my arms thinking about it, it says in Isaiah 25:6, "On this mountain the Lord of hosts will make for all people a feast of rich foods, a feast of well-aged wine, of aged wine well refined". And all of us who are not as accustomed to picking up a glass. Oh, I bet we do. Oh, I bet we do. There'll be no further need for worldly intoxications because there is no gladness, like his gladness.