Beth Moore - The Story of Jesus - Part 2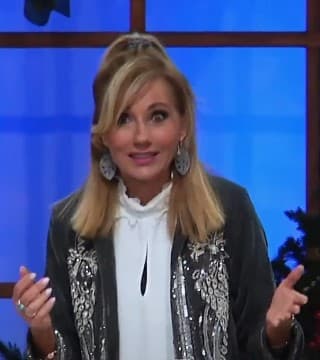 TOPICS:


When Joseph woke up, he did as the Lord had commanded him. Several months later, we learn in Luke's Gospel chapter 2 that a decree went out from Caesar Augustus that the whole empire should be registered. So, everyone went to be registered, each to his own town. Now, Joseph also went up from the town of Nazareth to Galilee to Judea, the city of David, which is called Bethlehem because he was of the house and family line of David, to be registered along with Mary who was engaged to him and was pregnant.

Now, understand that this was no small journey. This journey would have taken anywhere from 4 to 7 days, depending upon whether or not they had some kind of beast of burden that would carry her part of the way or whether she had to walk it. We don't know the answer to that question. That remains a mystery to us, but it is possible they had some kind of donkey like you might see in some of the Hallmark Christmas cards and that she got to ride some and she got to walk some. Nevertheless, would you just try to imagine those ankles. And wouldn't you hope that she would be better company than some of the rest of us might be, full-term, on a 5-day journey. And while they were there, "the time came for her to give birth".

Now, Luke is the most generous of the inspired writers of the Gospels when it comes to details. And at times in both of his books, the Gospel of Luke and Acts, those details are absolutely delicious. But here, of all places, he goes straight from "the time came for her to give birth" to "then she gave birth". I propose to you that only a man would have told it this way. And Luke of all people, he was a doctor for crying out loud. He couldn't have been all that squeamish. But then again, there ain't never been a man give birth. Had a woman been inspired to write the text, particularly one who had labored free of an epidural, she'd have a whole lot more to say here.

Now, my mother, and I'm talking real live mom, referred to childbirth the same way her mother did, my grandmother. They simply called it by the phrase, "Walking through the valley of the shadow". If someone had given birth, we knew someone had been close to time to give birth, if they'd given birth, they did not say they had the child. They said they have walked through the valley of the shadow. If they were still in labor, they are walking through the valley of the shadow. Because, according to them, there had never been anything more natural that you were any surer was going to absolutely kill you. I say it to my growing daughters now, particularly if they've been out of touch. I just text them, "Just me here, the one who walked through the very valley of the shadow to bring you into this world," and I don't mind telling you it works nearly every time.

But as much as I love my children, they weren't God's gift to the world. They were just God's gift to Keith and me. But the baby Mary was having was God's gift to the world. It was Augustine who wrote: "In my deepest wound, I saw your glory". Such could hardly have been more literally and vividly true for a young mother that night in Bethlehem. "The time came for her to give birth," Luke had written. "The time came". Oh, don't take that lightly. This was the time for which all time had been created. You understand, of course, that the very first thing God had to create was time. Even before light. How do we know that? Because it says in Genesis 1:1: "In the beginning God created". For there to be a beginning, because there was no beginning, there was no end, time was pulled out of eternity and set in place with a beginning and an end.

"In the beginning" was the first tick-tock of the eternal clock. The time came for her to be delivered. Galatians 4:4-5 reads it this way: "But when the fullness of time had come, God sent forth his Son, born of woman, born under the law," now listen carefully, "to redeem those who were under the law, so that we might receive adoption as sons". Did you hear that? "When the fullness of time had come". You see, on God's calendar, time doesn't go; it comes. It doesn't empty; it fills. Time is not being depleted; it's being completed. You are not running out of time. I don't care if you are 99 years old. You are running toward a time that God has forever had in mind, and it's called the fullness of time. I brought this hourglass with me today so that you could understand what I mean.

You see, this is the way time goes on the kingdom calendar, until it's full. This empty part of it is what has already poured out into the fullness of time. And that day when Christ was born, God had been watching that sand pour through that hourglass until the right hour had come and when time was full, he brought forth his one and only Son. In that moment, time turned over again. There is another fullness of time coming and one I want you to keep in mind throughout the course of our remaining moments together. As she brought forth her firstborn son and wrapped him in swaddling clothes and laid him in a manger, because there was no room for them in the inn, imagine what it will be like in heaven when we're all getting to know each other because we'll have forever and ever and we'll get to do that, to hear all of one another's stories and we'll wanna know what was your part in the story of Jesus? Because we all have some part in it now.

Well, imagine that we'll say to someone, "What was your part"? And someone will say to us, "Well, I was an innkeeper in Bethlehem". And we'll say, "Bummer. Glad you finally made Jesus room". "Yeah," they'll say, "nothing but grace," and we'll say, "Yeah, us too". Mary delivered the one who would in turn deliver her. She gave birth to the one who would give her second birth. She brought into this world the one whose kingdom was not of this world. It seems so entirely upside down, doesn't it? But wasn't that the point: upside down? Heaven invading earth? And there were in the same country shepherds abiding in the field, keeping watch over their flock by night. And lo, the Angel of the Lord came upon them and the glory of the Lord shone round about them and they were sore afraid.

And the angel said to them, "Fear not for, behold, I bring you good tidings of great joy which shall be to all people, for unto you is born this day in the city of David a Savior which is Christ the Lord. And this shall be a sign unto you. You shall find the baby wrapped in swaddling clothes, lying in a manger". And suddenly, there was with the angel a multitude of the heavenly host, praising God and saying, "Glory to God in the highest and on earth peace, good will towards men". And it came to pass as the angels were gone away from them into heaven, the shepherds said to one another, "Well, let us go, even unto Bethlehem and see this thing which has come to pass which the Lord has made known unto us".

And so they came with haste and they found Mary and Joseph and the babe lying in a manger. Don't you know, Mary could not take her eyes off of him? I couldn't take my eyes off of mine. I mean, I'd finally get them to sleep and put them in their crib carefully, and then I'd stare at them, then I'd shake the crib like this to see if they were still breathing. And when they had seen it, they made known abroad the saying which was told them concerning this child, and all they that heard it wondered at those things which were told them by the shepherds, but Mary, she kept all these things, and pondered them in her heart. The shepherds returned glorifying and praising God for all the good things they had heard and seen as it was told unto them. Oh now, that's not the end of the birth story, so don't go get your coat on yet.

This is where Matthew's Gospel chimes in. After Jesus was born in Bethlehem of Judea in the days of King Herod, wise men from the East arrived in Jerusalem saying, "Where is he who has been born King of the Jews for we saw his star at its rising and we have come to worship him". Well, when Herod heard this he was deeply disturbed and all Jerusalem with him. So he assembled all the chief priests and scribes of the people and asked where the Messiah would be born? "In Bethlehem, in the land of Judah, because Bethlehem, you are by no means the least among the rulers of Judah. Because out of you will come a ruler who will shepherd my people Israel".

Then Herod secretly summoned the wise men and asked them the exact time the star appeared. He sent them to Bethlehem and said, "Go. Search carefully for the child. Whenever you find him, report back to me so that I can go and worship him". After hearing the king, they went on their way and there it was, the star. They had seen it, its rising. It led them until it came and stopped above the place where the child was. And when they saw the star, they were overwhelmed with joy. And entering the house, they saw the child with Mary. They saw the mother and, falling to their knees, they worshiped him. And they opened their treasures and presented him with gifts of gold and frankincense and myrrh. And being warned in a dream not to go back to Herod, they returned to their own country by another route.

After they were gone, an Angel of the Lord appeared to Joseph in a dream, saying, "Get up. Take the child and his mother. Flee to Egypt and stay there until I tell you, for Herod is about to search for the child to kill him". So he got up. You can imagine he did. Took the child and his mother during the night and escaped to Egypt, and he stayed there until Herod's death so that what was spoken by the Lord through the prophet might be fulfilled: "Out of Egypt, I have called my Son". Then Herod, when he realized that he had been outwitted by the wise men, flew into a rage. He gave orders to massacre all the boys in and around Bethlehem who were 2 years old and under in keeping with the time he had learned from the wise men. Then what was spoken through Jeremiah the prophet was fulfilled: "A voice was heard in Ramah, weeping and great mourning, Rachel weeping for her children because she refused to be consoled, because her children were no more".

What shall we say to all these things? "Jingle bells, jingle bells, jingle all the way. Oh what fun it is to ride in a one-horse open sleigh-eigh"? Well, yes. As long as we know that it falls under the category of fun and games. Nothing wrong with Christmas fun and games. But the good news actually broke into a world of bad news, into a realm running empty on fun where the game of the devil and his hordes was to slaughter faith in God. Jesus, the Son of the Most High, came with salvation for hopeless sinners like I was and with healing in his wings for the broken, depressed, barren, and oppressed like all of us have been. And at a time of tragedy and treachery and in a world where his own people were anything but free and he will come again to a world where Satan, listen carefully to me, knows his time is running out. And will increasingly wreak havoc, increasingly sow violence, increasingly fuel hatred, and spread deception and accusation and increasingly slaughter innocents.

But this is why Jesus came, after all. Or so the beloved disciple tells us in 1 John 3:8. The Son of God was revealed for this purpose, to destroy the devil's works. Jesus had done that at the greatest of cost. He'd done so with his life, with his beautiful, wondrous, sinless life. So, let's draw to a conclusion, back where we began, in that Upper Room with 120 other people who were soon to be filled with the Holy Spirit and let's let our mind's eye fall upon the face of that one woman somewhere perhaps around 46 years old, Mary the mother of Jesus. And imagine the kinds of things that must have been going on in her head. I suppose if she were like many of us who've parented, that she could still see his little boy face in his grown-up body, even in his torn-up, grown-up body on the cross that might have been beaten beyond recognition to many others, but not to his mother.

She had seen him covered in her own blood on the day he was born and she knew him covered in his own blood on the day that he would die, that terrible afternoon just over 40 days ago. If she were like most moms, she rued the day she had said to him at that wedding, "There is no more wine". Thinking maybe if he'd never performed that first miracle, he'd never made it into the public eye. He'd said to her, after all, "What does that have to do with you and me, woman? My hour has not yet come". Well, her hour had indeed come and, like all moms, she intended for her 30-year-old son to get busy and maybe if she'd just stayed out of it or if he'd had a different mother, none of this ever would have happened. She'd have been wrong, of course. But you see, mothers never deal sparingly with guilt. We'll take it at the drop of a hat. But then, it gives no more breath. Her baby son, limp and lifeless. Sleepless Friday night. That Saturday was a blur.

Then there was all the sitting, all the confounded sitting. All the Sabbath sitting for the Sabbath resting with grief pounding in her heart and her pounding in her head. Then there was the next day, the third day, and a rumor broke out that the tomb had turned up empty. Listen, if she had not known Mary Magdalene so well, she would have thought the woman was delusional. "Grave robbers," some people had said. Oh, the grave had been robbed all right, but the robber was God. He'd come to rob people of their sins if only they would believe. This same Jesus who has been taken from you into heaven will come in the same way that you have seen him going into heaven. Remember that Galatians 4:4? "When the fullness of time had come, God sent forth his Son".

Do you know that there is only one other place in the entire ESV from Genesis to Revelation where the phrase "fullness of time" is found? It's in Ephesians chapter 1. I'm gonna read verses 1 through 11 to you so that you can catch it and you can catch it in context. And as I do, would you let these words sink into you because here is the truth for us. You and me, we are people living between two advents. This side of the first advent, and this side of the second advent. We forever live in between until we see his face. But here's what I'm trying to tell you. As surely as they were looking forward to that First Coming, we, the church, were meant to look forward to the Second Coming. It was meant to dawn on us every day of our lives. I wanna tell you something. We live in perilous times. I don't know about you. I have never seen anything like this present world. All of the divisiveness, all the hatred, all the violence, all the misunderstanding, all the accusation. Church turned upside down.

But the thing of it is Jesus told us that this would happen and how to get ready. We're still alive drawing breath. We could still get ready. It's hit us unprepared. We have not done a fine job. We're not dealing well with a world turned upside down and the world is supposed to be able to look at us and see light in us. But often, we are leading out in darkness. He is calling the church to open her eyes, lift her chin for her redemption draws nigh. It's what the apostle Paul called in 2 Timothy chapter 4 when he said, "The crown of righteousness is reserved not only for me but also to all who have set their affection on his appearing".

I ask you a question, and if the answer is No, I ask you not to dissolve into guilt and think what a childish Christian you are, but to begin to pray with me that he will give you what you need. Do you love the thought of the appearing of Jesus? I mean, do you, like, daily, do you realize how our day would change if we knew? I'm gonna tell you something. We have the promise that Christ is coming back and he will set right every single wrong, every unjust thing will be made just. He will do it all right. He will wear his crown and that which we have prayed over and over again in the Lord's Prayer, "Your will be done on earth as it is in heaven," that prayer will be answered.

Ephesians 1: "Blessed be the God and Father of our Lord Jesus Christ, who has blessed us in Christ with every spiritual blessing in the heavenly places, even as he chose us in him before the foundation of the world, that we should be holy and blameless before him. In love he predestined us for adoption to himself as sons through Jesus Christ, according to the purpose of his will, to the praise of his glorious grace, with which he has blessed us in the Beloved. In him we have redemption through his blood, the forgiveness of our trespasses, according to the riches of his grace, which he lavished upon us, in all wisdom and insight making known to us the mystery of his will, according to his purpose," are you listening carefully? "Which he set forth in Christ as a plan for the fullness of time, to unite all things in him, things in heaven and things on earth".

That sand is going right through that hourglass. And when time is full, that sky is going to split wide open and he who is called the faithful and true will come riding through it. Riding on a white horse. And every eye shall see him. Behold, he comes with the clouds and he shall destroy death in its every manifestation and we shall live in a city whose architect is the Lord and our every tear shall be dried. Our every heartbreak shall be mended. Our every sickness shall be healed and all our goodbyes will be over. Even so, Lord Jesus, come quickly.