Allen Jackson - Into The Arena - Part 2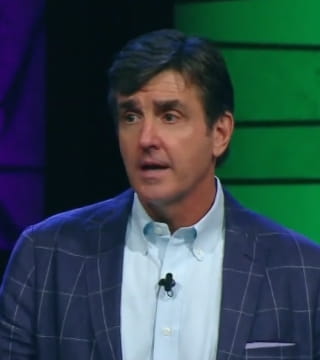 I want to take a moment with you and look at a chapter from the Book of Isaiah. It's Isaiah 59. It's a marvelous chapter in the Scripture for this. To help with timing, I've just taken some slices from the chapter, but if you want to do a little extra work on your own, read Isaiah 59 this week. Think about what the prophet has to say. The message is very simple. The thesis is illustrated or is clearly stated in the first verse. It's Isaiah 59 and verse 1. "Surely the arm of the Lord is not too short to say, nor his ear too dull to hear". What a marvelous promise. God said, "My arm is not too short and my strength is not insufficient and I can hear you. I can get to you and I can hear your problem".

Ain't that good to know? That's my God. I mean, he can be yours too, but I can tell you for sure he's mine. God desires to bring freedom to his people. That's so good to know. That is so good to know, but look in verse 2. Says, "Your iniquities have separated you from your God. Your sins have hidden his face from you and so that he will not hear. Your hands are stained with blood and your fingers with guilt, and your lips have spoken lies, and your tongue mutters wicked things. No one calls for justice. No one pleads his case with integrity. They rely on empty arguments and speak lies". Sounds like a pretty accurate description of contemporary American life. What happened? God said his strength is sufficient, his reach is adequate, and his awareness is complete.

How have we arrived at this condition? It says our iniquities have brought the separation. God hasn't withdrawn from us. Our iniquities, the attitude of our heart, our choices, our thoughts, our values have brought separation between ourselves and God. Now, there's good news in that. If our choices have brought the separation, that separation can be bridged. It's not something done to us. This is a passage reading to the people of God, to God's covenant people, his chosen people, not to the pagan nations.

Look in verse 13. "Rebellion and treachery against the Lord, turning our backs on our God, fomenting oppression and revolt, uttering lies our hearts have conceived. Justice is driven back and righteousness stands at a distance. Truth has stumbled in the streets. Honesty cannot enter. Truth is nowhere to be found, and whoever shuns evil becomes a prey". Again, this sounds very descriptive of our world, doesn't it? Truth is nowhere to be found, and if you shun evil, you're mocked. If you choose to live a biblically-informed life, if you choose a biblically-informed sexuality or morality or to do business in an ethical way, far too frequently you're mocked, made fun of, seen as somehow unsophisticated. "The Lord looked and was displeased that there was no justice".

Verse 14 in that intrigues me. There's four words used, justice, righteousness, truth, and honesty. I mean, if you think the quality of your life would improve if there was significant growth in those four things, justice, righteousness, truth, and honesty, me too. I happen to think those are words of great significance. They're important words. Those words don't exist apart from the power of God. Those words are not achievable or attainable apart from God because the human condition does not lend itself to justice, righteousness, honesty, and truth apart from God. There's nothing in the history of human civilization that suggest human beings working together will arrive at a place of justice, righteousness, truth, and honesty unless there's an intervention because we are a rebellious lot. We look for opportunities and advantages. We are filled with selfishness, and selfish ambition, and envy, and greed, and immorality. We need the intervention of the power of God.

Our story is a story of transformation where by the power of a living God results in the transformation of a human life so that we can live together in justice, and honesty, and righteousness, and truth. It's what makes the cross, the gospel story good news. The good news is that through the power of the cross we can be changed and live together in a way that enables us all to flourish. It's a myth that a government or a leader or anyone else or any organization apart from the power of the gospel can achieve that outcome. There's no evidence of it in human history. Don't be ashamed because you're a person of faith. Don't be ashamed to say, "My faith needs to impact the office where I work, or the neighborhood where I live, or the school where I teach or my children attend, or the ball fields where my children interact".

Your faith, those values, that transformation that's been initiated in your heart and mind is the hope that we hold. It's important. We've been timid too long, folks. We're not getting better apart from God. We're not treating one another with greater dignity and greater unity and greater cooperation apart from God. Look at those words again in verse 14, justice, righteousness, truth, and honesty. There's a statement made about each one of them. Justice, it says, is driven back, righteousness stands at a distance, truth has stumbled, and honesty isn't even allowed to enter. Sounds pretty descriptive, doesn't it? What intrigues me is those descriptions. Every one of those descriptions addresses proximity or availability. Righteousness is... I mean, stands in a distance. Justice is driven back. Truth is stumbled. Honesty isn't allowed to, they're not close enough. They're not available.

We need the promise of verse 1, that the arm of the Lord is not too short and his ear is not too dull. What has put us in this position? How have we arrived at this position? The iniquity of our hearts. Look at verse 19. "From the west men will fear the name of the Lord and from the rising of the sun they will revere his glory". That's a fascinating passage. I read it a few days ago, and that first phrase began to resonate in my heart. From the west, it says, men will fear the name of the Lord. From the perspective of the authors of Scripture... the authors were from the Middle East. So the west from their vantage point is us. And it says from the west will come the fear of the Lord. I began to say it as if it was God's perspective over our lives. "God, let the reverence for God or respect for God, the fear of God come once again from the west. Let the western peoples fear the name of the Lord. Let it be true over our lives, God".

There was a time we were known as the Christian west. They would like to take that label away from us. I would like us to be known as a generation that feared the name of the Lord. Let it sweep around the earth. Now, in fairness to the text, look at the next phrase. Says, "From the rising of the sun, they will revere his glory". Help me for a minute. What is the sunrise? The east. I thought that was it. So from the west to the east, let the whole earth be filled with the reverence for God. It's an equal understanding of the passage, but I'm not giving up the fear of the Lord coming from the west. Look at verse 20. "The Redeemer will come to Zion, to those in Jacob who repent of their sins".

That's the punch line, the Redeemer will come to those who repent of their sins. Go back to the first verse. Isaiah said the arm of the Lord is not too short, his strength isn't too small, and his ear isn't too dull, and the Redeemer will come to those who repent. What has caused the gulf? What's caused these things to be removed from our proximity? It's been the iniquities of our own heart. We're not powerless. We can change. What would God say to America? What do you think he would say to us? If he occupied our pulpits, what do you think he would say?

I think he would ask us about 3,000 children a day that we sacrifice because it's inconvenient or economically too challenging. I think he would ask us about the 50 million babies we have lost since Roe v. Wade. Oh, I know we have to have compassion on people that have endured that. I'm an advocate for that, but I think God would ask us about that. We're too worked up about justice, folks, and our rights, and thousands of children every week lose their lives with no voice in the public square. I think God would talk to us about that. I think God would talk to us about the casual way we have set aside his moral boundaries and we've chosen our own. I think he would talk to us about the lack of contentment in our hearts.

I sit with pastors frequently and I often have the privilege of sitting with pastors that have been very effective. They lead large ministries, and initiatives, and global things, and churches, and remarkable people in many ways. But I'm concerned. It's easy to convene one of those meetings and share our stories and point to things that we have accomplished, and we miss the bigger picture. This is the place I know God has planted me for this season. And our church is a remarkable expression in many ways with the grace of God.

When I became a part many years ago, we were in a little rented space and our first... we bought some property here. In our first worship services here we were in a tent, and it was more beautiful to us than Solomon's temple. And many years later, the Lord has blessed us in phenomenal ways. But you know the greater reality? The percentage of our community that participates in church is the lowest it has ever been in Murfreesboro, in Rutherford County, the buckle of the Bible belt. Fewer people participate in worship on a weekend than in the history of this city or this county. So I don't think I can stand before the Lord and point out what we've done and say, "Wow. I hope we have to have church on Tuesdays in the afternoons to accommodate the people that want to come worship".

And I'm going to ask you to rock their babies, and I know you'd be willing. I've got just a couple of minutes left. I want to look with you at a passage that I believe the Lord gave us for how to be prepared for what is yet ahead. It's an important question, how to be prepared. It's an important life question. I was talking to a family between services that had a new baby and the changes that have brought to their lives. And you smile. They spent months and months preparing, and the baby gets here and you feel completely unprepared. "Why didn't somebody tell us"? 'Cause you can't quite hear until that first one arrives, huh? And preparation is important. And we're changing seasons right now here where we are.

And there's that first hint of cool in the early morning, and we know that the season ahead is anticipated. We get a break from the heat and the humidity of the summer. Do you know if you just arrived for your first time on planet Earth about a month ago this would be a terrifying season 'cause about another month or 6 weeks from now all the vegetation is going to die? The leaves are going to fall from the trees and the flowers are going away and the grass is going to quit growing. If you'd never been here before you'd think it was the end of life on planet Earth, and it's just a season change, but you have to be prepared. If 90 days from now you're dressing to go out the same way you were 6 weeks ago, you're going to be uncomfortable.

Preparation. We have to care and listen. Preparation is only effective for those who are listening. I happen to believe before the Lord comes we'll see the greatest harvest into the kingdom of God that the world has ever seen. But before you applaud that in your heart, understand that harvest time is a time of incredibly hard work. Harvest time is a time of extraordinary effort and tremendous diligence, and if you don't participate in the harvest, if you sleep through the harvest or you choose to vacation during the harvest you forfeit what's needed for the leaner season that is to come. Years ago when we were still living at home we put out a strawberry patch. We liked fresh strawberries.

So our parents kind of humored us and helped us put out the strawberry patch. In the first year it was kind of nice. It was manageable. Strawberries grow. Two, three years into it we had like, I don't know. Felt like to me a 40-acre field of strawberries. It's probably about 1/2 an acre. Now, it was fun that first time you got to pick those strawberries. I like fresh strawberries, particularly if somebody will wash them and cap them and put little sugar on them and make some shortbread and put it on bowl in front of me with some whipped cream. I'm all about that. That's a God thing.

So I was willing to pick, you know, a row of strawberries to get to that objective the first time, but those cotton-picking plants kept bearing. And my parents had this perverse notion that we should pick strawberries to share with our friends. If they want strawberries, let them come pick their own strawberries. About 10 days into strawberries, I hated strawberries. I didn't like my friends. They were trying to enjoy the good life on the sweat of my brow. I grew up in the country. We used to have a field of hay, and we would cut hay, and so we'd fertilize that field and sow seed in that field 'cause we knew when the grass stopped growing we still needed to feed the livestock. So we would cut hay, not like we do it today. No.

Now we cut hay, and they put those big round bales and they move it with hydraulic fancy equipment. We used to cut hay and put it in these little evil blocks and make our children move it. That was harvest time. There was abundance. There was so much abundance we couldn't consume it all. So we would gather it, and collect it, and stack it, and store it 'cause we were going to need it for another season. Folks, it's harvest time. That doesn't mean it's easy. It's not a vacation. It's not a day at the park. You're going to need gloves. You're going to get tired. But it's a season that has a terminal point on it, and if we don't respond to the season, we'll forfeit the opportunity.

Well, in Ephesians we're given a passage that helps us prepare. Says, "Be strong in the Lord and in his mighty power. Put on the full armor of God so that you can take your stand against the devil's schemes. Our struggle isn't against flesh and blood, but against rulers and authorities and powers of this dark world, against spiritual forces of evil in the heavenly realms. Therefore put on the full armor of God". That's the second time in three verses we've been given that counsel.

"So that when the day of evil comes you'll be able to stand your ground, and after you've done everything to stand. Stand firm then with the belt of truth buckled around your waist in the breastplate of righteousness, your feet fitted with the readiness from the gospel of peace. In addition to all this, take up the shield of faith. You can extinguish all the flaming arrows of the evil one. Take the helmet of salvation and the sword of the Spirit, which is the Word of God. And pray in the Spirit on all occasions with all kinds of prayers and requests. And with this in mind, be alert and always keep on praying for all the saints". Not a complex passage. The language is very accessible. I just delineated it for you. In your notes it says, first of all, in verse 10 be strong in the Lord and his mighty power.

So I present it to us as an option. If we're going to walk through this season effectively, you and I will have to be strong in the Lord and in his power. Someone, "Wait a minute, pastor. I just come to church. Look, there may be a hell. I didn't want to go there. It's really all I want. I want to get my ticket punched to heaven, and then I'm going to leave the heavy lifting to the rest of you goofballs". You won't make it. I doubt you'll even make heaven. See, the idea that you can recite a prayer and be dunked in a pool and then live your life on your terms, for your goals, and ignore the purposes of God and still receive the benefit of the people of God is a very frightening notion to me. It's not one I'm willing to bet my eternity on.

I'm not talking about being a preacher. I'm talking about when Jesus said, he gave us a prayer to pray. He's told us to pray it on a daily basis: let your will be done and your kingdom come through me. We are learning to be strong in the Lord. And then we're told in verse 11 to put on the full armor of God. It's repeated again in verse 13. But this notion of putting on the full, why would you put on the armor of God? Because it's such a fashion statement? So you can brag to your other friends in church, "My helmet's cuter than yours"? No. It says put on the full armor of God so that you'll be able to stand. If you don't have on the armor, you won't stand. You won't make it. I believe that with all my heart. We need the armor. That's why it's given to us.

There are seven specific components that are enumerated there. I listed them for you. I won't belabor them. It says put the belt of truth around your waist. If you don't choose the truth for your life, the truth about yourself, the truth for yourself, if you aren't a person of the truth, you can't even keep your pants up. It's really hard to walk when they keep falling down. It's embarrassing and humiliating. You need truth, the breastplate of righteousness, your feet with a readiness of the gospel of peace. Take up the shield of faith. You have to choose to take it up. It's available, but you have to choose it. Why would you choose it? Because there are fiery darts launched by something evil at your life and you can't extinguish them without faith. The helmet of salvation to protect your mind.

There's a battle in our minds, in all of our minds not just with evil thoughts or illicit thoughts or immoral thoughts, there's battles in our minds about forgiveness and the pathway that God's inviting us towards. We need God's Word to help us. The sword of the Spirit, the Word of God, and finally pray in the Spirit on all occasions with all kinds of prayers. All kinds of prayers. We're going to pick that up again in a couple of weeks. And then we get the rest of the instructions in verse 12. It says know your adversary. It says our struggle isn't against flesh and blood. You know why it says that? 'Cause at first glance it looks like most of my problems are with people. The people may not be my problem, but they're the delivery system.

Come on. Somebody you work with looks like the delivery system for evil. Give him a UPS. You may not work for the big brown, but you're delivering evil here. I'm here to tell you. And he's reminding us that our wrestling match, our struggle really isn't with people, it's with principalities and powers and spiritual forces of wickedness in the heavenly places. There's a spiritual motivation for evil. "I don't know if I believe that or not, pastor". That's why I read it to you. It's in the book. It's in the book. It's not some secondary component. That's the fundamental issue of the challenges we have.

In verse 13 it tells us the next component, that the day of evil comes; put on the full armor of God so that when the day of evil comes. We've been warned. Something's going to arrive in your life that could only legitimately be described as evil. You didn't invite it. You didn't want it. You didn't earn it. You didn't deserve it. It just intruded. Jesus said to the disciples, "When we get to Jerusalem, this is what's going to happen". Were they prepared? Not very well. After the fact, they had a lot of recall. We've been warned. Then in verse 13 we get some more instructions. Says that when the day of evil going to be able to stand, even after you've done everything to stand, stand firm then.

Sometimes you'll have done everything you know to do. You'll have prayed every prayer, you'll have responded with every response, you will have done everything you've known to do, and you don't have the resolution you need yet. What do you do then? You stand. Talks a lot, feels to me a lot like perseverance or endurance. I don't like those words. I mean, I'm happy for you to do them, but I like microwave answers. I would like God to answer my prayer before I get to the amen, right? I mean, I'm happy for you to have patience. I'm willing to have patient friends. And then, finally, in verse 18 it says be alert. It's going to require awareness on our part. Be alert, and then the last one is to keep on praying for all the saints.

You know why we're told to keep on praying? 'Cause I get tired of praying for the saints. Something like saints, pray for yourself. How much prayer do I have to do for the saints? Seems like to me there's more aints than there are saints unless somebody else pray for a while, but it says we have to keep on praying for all the saints. We live in a very unique season. God is moving in the earth in an unprecedented way. I believe the years ahead of us hold the potential for the greatest move of the Spirit of God that humanity will have ever known, but I also believe they hold the potential for the greatest expressions of evil our world will have ever seen.

And the question is whether or not we'll be prepared for that season. It's not helpful to lament the fact that the season's changing. I'm sure you can be upset because summer is about over, but it won't keep the fall and the winter from coming. And, I mean, people, you know, that they lament that we're not in some season some previous place. Okay, I hear you or maybe I regret that with you, but we got a future to face. Let's go. God has given you everything the Bible says you need for life and godliness. His arm is not too short, his strength isn't too small, and his hearing is not too dull, and he will come for his people. I want to be included in that group, don't you? Amen.

I brought you a prayer. Let's stand together. We'll read it together. When you take in your prayers with you, are you using them through the week? I hope you are. I hope you are. Let's read this one together:



Heavenly Father, we have gathered in your name because in you there is hope. You are a God of great mercy and compassion, a God who restores and renews. We are a people in great need. We have turned our backs on truth and justice. We have walked in pride and rebellion. Forgive our sins. Pour out upon us a spirit of humility and repentance. May the fear of God wash over our hearts and our minds. Our hope is in the name of our Lord. May Jesus be honored in this generation. Amen.