Allen Jackson - Awake, Aware and Concerned - Part 1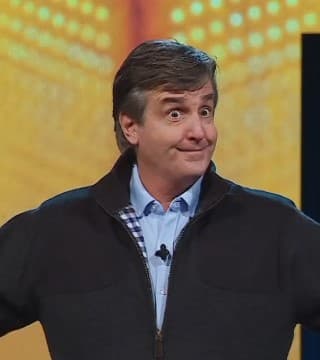 It's an honor to be with you again. Our topic today is "Awake, Aware, and Concerned". You know, we are learning to lead with our faith, and I've been making a suggestion for several sessions now, begin to build a good news list. And one of the challenges for the people of God, and it's not new to our generation, it goes all the way back to the Exodus generation, is we forget the deliverance of God. We forget all the things he's done for us. And one of the remedies for that is to maintain a good news list, those places where God has been involved in your life. You want to keep it current, you can keep it running, you can put it on an Excel spreadsheet, it can be a Google doc, you can do it on a Big Chief pad with a crayon.

I don't care how, you want to keep a list. But then you want to keep an awareness of what's happening in the world around us. God's truth breaking into the public square, it's happening every day these days. It's contributing to the chaos, because the truth is colliding with the deception or the foundations of deception, and it's rocking the public square. If you're looking for the truth and making a list of what God's doing, you'll be stable and steadfast in this season. It's an exciting time to serve the Lord. Grab your Bible and a notepad, but most of all, open your heart.

We're working through a series. We've talked about leading with faith, and perhaps in some non-traditional ways, leadership is about influence, and we have a desperate need for a faith influence in our nation. We have a tremendous leadership deficit in general. I'm not talking about leadership based on talent, or academics, or gifts and abilities, I'm not opposed to any of those things, but I think sustainable leadership is more about character. Not being a character, having character, there is a difference. And it isn't about a title, or a position, or an office, or an organization, or how many followers you might have, it's about being an individual who will allow the Spirit of God to let the character of Christ be formed in you, so that you can be trusted with influence in the kingdom of God.

Jesus talked to us about being trustworthy with small things, the things of this world, so that we might be trusted with the true riches of the kingdom of God. And for us, I think we recognize a need for leadership, I'm not sure we have been as willing to recognize that those of us who are Christ followers have to attach greater value to the kingdom of God, so that those aspects of our character can be refined and formed in such a way that it would please God for his purposes to emerge through our lives in greater ways than we've ever seen.

So, the topic and the theme is "Leading with Faith". Not bemoaning the weaknesses of others, but just quietly saying to the Lord, here I am. It's not about great numbers of people or arenas that are filled, it's about the character of Christ being formed in us. And in this particular session, I would like to talk about being awake, and aware, and concerned, paying attention to the world around us with the perspective that comes from the Spirit of God. I've been encouraging you to build a good news list. In a time of rampant deception, and widespread propaganda, and significant censorship, the truth is not always apparent. But as I'm watching what's unfolding around us, I am amazed at the persistence of God in seeing that truth breaks into the open.

And so, I would encourage you not to forget your deliverances, your personal truth, those things where you have seen God bring wholeness, or deliverance, or hope, where God has intervened in your life. Keep a list, review it, talk about it to the Lord. Allow that to inform your decision making with the challenges of the moment. If God has been faithful in the previous 25 years, just there's a slight chance he'll be faithful today. And we very quickly forget and bemoan that God's never done anything for us, which is not true. A good news list, your personal list and then a broader list of what you see God doing in the world around you. Don't stay angry, don't stay agitated, don't stay torqued up, celebrate the truth that you see breaking into the public square.

I would have preferred the truth be told the first time a deceptive or untrue statement was made, but God doesn't always operate on my timeline or yours. I hate to break it to you, but since we're together. He is sovereign, so maintain your good news list. Truth is breaking through in many arenas these days. There's a tremendous amount of COVID truth that is coming forward, facts which would have resulted in some pretty significant censorship just a few months ago, and they're being acknowledged as true these days without being blocked, or edited, or limited, or deplatformed, hallelujah. They're talking in open about things like the ineffectiveness of cloth masks with this virus, the benefits of natural immunity, we're getting better reporting of hospitalizations, hallelujah.

All of those things will help us flourish as we overcome this. There are arenas beyond COVID, the filibuster, the disruption of how decisions are made in our Congress seems to have been preserved for the time being. There have been illegal government mandates that have been reversed, just there's all sorts of truthful things that are breaking forth. The majority of those have nothing, they're not partisan issues, they're issues that affect our way of life. The truth in the public square is a good thing.

Now, there are still many challenges. We have some old ones and some new ones, welcome to the 21st century. The specter of a conflict with Russia over Ukraine seems to be escalating rapidly. I hope you're praying. Economic insanity continues to fester. There seems to be a tremendous lack of courage to face the reality of our circumstances, our economic circumstances. Lawlessness resulting in violence is affecting all of us. It's not just the large cities, it is affecting all of us. And it's not just violent crime, lawlessness is the disregard for the rule of law, and the disregard for the rule of law is being expressed at the highest levels of power and authority in our nation.

Immorality and perversion are common, both within the church and without. So, while we're celebrating our good news list, keep your prayer list informed and aware for what's happening in our world. I've said many times and I will continue to say, the solutions begin with spiritual discussions. A strong, vibrant, and active church is essential, not just self-promotional banter, we've had enough of that. The root of our problems is spiritual. We have forgotten God. Now, we can dress it up, but that's the essence of it. We have forgotten God, and it's time to repent and believe, because the kingdom of God truly is at hand. What an exciting time to be a part of God's people in the earth.

Matthew chapter 9 and verse 36, Jesus, it's an event in Jesus's life. "When he saw the crowds, he had compassion on them, because they were harassed and helpless". He wasn't angry with them, he wasn't annoyed by them, he wasn't critical or condemning of them, he had compassion upon them. When you look at people that are standing away from God's purposes for them, let's take Jesus's coaching and look upon them with compassion. "They were like sheep without a shepherd. And he said to his disciples, 'The harvest is plentiful, but the workers are few. Ask the Lord of the harvest therefore to send out workers into his harvest field.'"

I think the statement is as legitimate today as it was when Jesus offered it the first time, that the people are like sheep without a shepherd, but the harvest fields are ripe, and there's a need for people who care enough to work amongst the harvest fields. That's an uncomfortable acknowledgement. We think we can hire somebody to do it, or we can delegate it, or maybe technology will do it, but the biblical models have to do with lives yielded to the authority of Jesus and a willingness to accept our God assignments, whether it's to go to Nineveh, or to Philippi, or to go stand in the desert and wait for the chariot to pass, or whatever the assignment may be.

When I think of the imagery of sheep without a shepherd, there are some ways I think that we can give expression to that amongst ourselves. It seems to me that it would be to be unaware and unconcerned. The point of a shepherd is to have an awareness that the sheep don't have, to have a concern for their wellbeing that they don't have for themselves. And when we look across the landscape of our current culture, I think you would have to say the majority are unaware and unconcerned. It's as true within the church as without. And then I think that sheep without a shepherd are very easily deceived, easily manipulated. Sheep are not the most intelligent of God's creatures. It's not a great compliment that Jesus drew a parallel between them and us.

And then I think to be without a shepherd is to recognize there are those that have chosen ungodliness. They've made bad choices. They weren't deceived, or manipulated, or coerced, they weren't uninformed, they understood, and they made a wrong choice. They still need the intervention of a shepherd. The shepherd that goes after the one that was separated from the 99. I believe Jesus's assignment is real for us today as it's ever been, and I'd like to use that as the backdrop for the balance of this discussion. I'm gonna, we've had some pretty spotty weather in Tennessee of late. We've had all four seasons, it seems like, every week for several weeks. The promise of spring helps us be steadfast.

But in Matthew 16, Jesus makes a comment to the spiritual leaders of his day, and I think it's appropriate for us. He's really challenging them because of their lack of an awareness of spiritual things. They have lots of spiritual activity, and lots of spiritual habits, and they even have an interaction with the Word of God, and they attend synagogue, or a public worship event as we are in the habit of doing. It says, "The Pharisees and the Sadducees came to Jesus and tested him by asking him to show them a sign from heaven. And he replied, 'When evening comes you say it'll be fair weather, for the sky is red, and in the morning today it'll be stormy, for the sky is red and overcast. You know how to interpret the appearance of the sky, but you cannot interpret the signs of the times.'"

It's not a new verse to us, we've looked at it before. Jesus is challenging them that they're better at predicting the weather than they are being aware of spiritual things. And not just an awareness in the moment, but of understanding what is before them spiritually. Because when he's talking about the weather, he's not just, he didn't say you're too stupid to come in out of the rain, he said you can anticipate the weather patterns of tomorrow, but you have very little awareness of the spiritual patterns that are taking place around you and what that means for tomorrow. His words are clear.

In a parallel passage in Luke chapter 12 and verse 54, "He said to the crowd, 'When you see a cloud rising in the west, immediately you say it's going to rain, and it does. And when the south wind blows, you say it's going to be hot, and it is. Hypocrites, you know how to interpret the appearance of the earth and the sky, how is it that you don't know how to interpret this present time?'" It's a bit of an amplification of what we read in Matthew. The Messiah is there, the miracles are plentiful, the fulfillment of the prophets can be counted in the dozens, not one or two.

There is abundant biblical evidence, and there is abundant personal testimony that what is happening before them is not business as usual, or typical, or normal, and yet he's challenging those who should have the sophistication, or the awareness, or the ability to pull those things together. And he said, "You can interpret the appearance of the earth and sky, how is it you cannot interpret this present time"?

Now, I think one thing we should conclude from those passages is it's not necessarily easy to interpret the present time. They were desperately looking for a Messiah. They were oppressed, they were humiliated by Roman soldiers, they paid taxes to Rome, which was beyond inconvenient. I'm quite certain they were frequently humiliated, themselves, the women, those amongst them with little power. They had a tremendous need for the Messiah, so it wasn't a lack of desire, they were investing a great deal of energy and effort in the study of Scripture, and religious holidays, and keeping kosher, and all of those things, and yet they could not interpret the present time, so I don't think we should assume that interpreting the present time is simple. It will require a bit more sophistication than we have. I don't know that we're great at that.

I don't wanna just leave predictable weather just yet. You know, when it comes to predicting the weather, we can predict patterns, we can predict necessary components for outcomes. We need so much moisture in the air at a certain temperature if we're gonna have snow. And the the effectiveness in doing that predictions is still somewhat inconsistent, even with all of our technology, have you noticed? In Tennessee, the rule of thumb is if they talk about snow, you don't have to worry about it. Now, they'd been right a few times this year, so I've had a few slices of humble pie. Thank you for reminding me. But one of the keys in predicting the weather is being aware of barometric pressure, the atmospheric pressure. As it changes, it helps us in our predictive patterns.

Now, my sense is we're better observing and anticipating than we really are predicting. We can say because of these conditions, this is the likely outcome, but we don't know exactly where it's going to happen or when it will happen. We can say the conditions are right, that there could be a tornado, there might not be, but there could be, and we don't know really where it's gonna happen, but it could happen within this five-square-mile area, or this 50-square-mile area, but the conditions are such that a tornado might be a possibility. And this is kinda the imagery that Jesus is using, he said you can look at the sky and have some sense of rain, maybe not over the whole nation, but that rain would be a possibility for some, and he's asking us to bring that same kind of imagination to interpreting our present time.

I think barometric pressure is a helpful tool. Barometric pressure, atmospheric pressure, they're the same thing. They describe the weight of the air surrounding the earth. Did you understand that the air has weight? That there's a layer of air that scientists can actually measure with reasonable accuracy. It extends to about 25 miles above the earth, 25 miles. Now, the portion of the atmosphere that sustains life only extends for three miles. And the higher up you go, you might imagine the lighter the weight of the air. Barometric pressure measures the weight of the air at sea level. For example, a lot of people think that altitude sickness is caused by a dip in oxygen levels. You go to visit some mountain town, or mountain village, or you choose to go snow skiing, you're 8.000 feet or more above sea level, the amount of oxygen in the air is the same as it is at sea level.

Spoiler alert, the difference is the air's pressure and its density. At high altitudes, there's less pressure, it means less air is being pushed into your lungs, and less oxygen is going through your bloodstream, so it's more work, but the oxygen is there. The standard pressure at sea level is about 14.7 pounds for every square inch of air. Now, when you're taking readings at home, or listening to other professionals, it's typically measured in inches of mercury. We'll talk about why another time. Here's my suggestion for the little micro-science lesson. If we have some predictive abilities around the weather, it seems to me that we have to learn to recognize and respond to spiritual pressures. And we have had some home remedies, or some ideas about why it's more difficult in one setting than another, but they're really not grounded in Scripture, there just kind of impressions or ideas. We've been more whether oriented than we've been spirit oriented.

I think if you interview those of us who fill the churches pretty routinely across Evangelical America, we would find that we believe in Jesus, but we dismiss most spiritual discussions as insignificant. Or maybe they're just too complex, or it's just something I don't know about, but I'm born again, and I've been baptized, so hey. So hey, it's time to learn. There's some givens. If we were gonna do a geometric proof, you need to know what the givens were, or you couldn't resolve the proof. And there's some spiritual givens you need to know if we're gonna navigate spiritual pressures. The supernatural is a part of our everyday life, whether you acknowledge it or not. It's a part of your life every day. The interaction of the Spirit of God and unclean spirits impact who you are and how your day unfolds on a very regular basis. You say, "I don't believe that," it's not relevant. It's like saying you don't believe in COVID, clever.

Secondly, good and evil is expressed through spirits. Good and evil is expressed fundamentally through spirits. If you prefer, person's without bodies. They all the all the characteristics of a person, they just don't have an earth suit. And your life plan should include provision to deal with good and evil.

Number three, our choices make us vulnerable to one or the other, or both, your choices. They don't have to be informed choices, you don't have to understand why. You can contract COVID from someone that you didn't know had it or had the ability to transmit it to you, you didn't have to choose to go expose yourself. The same is true with evil. There are things you can participate in, there are places you can present yourself, there are things you can do that make you vulnerable to expressions of evil, and say, "Well, I didn't intend to". It's not relevant. "Well, I'm not sure I believe that". Doesn't change things. "Well, I don't want to think about it". You forfeit too much.

Number four, knowing God's Word and recognizing the Holy Spirit are essential components for flourishing. I didn't put this list in your notes if you're looking. They're in the deluxe version. Knowing God's Word and recognizing the Holy Spirit are essential components for flourishing, thus 40 days of an increased effort in our Bibles and more time to pray. Because somewhere along those 40 days, I hope we'll find some new habits and some new routines. Maybe not 40 minutes every day, but we'll come to value the daily interaction with the Word of God and the daily time to pray in a new way.

Number six, repentance needs to be more familiar. Guilt and shame are not adequate substitutes. Feeling guilty is not a good replacement for repentance. Some of you have carried guilt like you wear a winter coat. Let's have the humility to come to the cross of Jesus Christ, acknowledge our sin, ask for forgiveness, and be willing to believe that through the blood of Jesus Christ, we can be set free. God's one provision for you and me, his total and complete provision is through the cross of Jesus. There is no plan B. If you don't think the redemptive work of Jesus is adequate for you to be forgiven, are you so special you need something more than Jesus? It's a broken thought.

And lastly, and we'll have to talk about this in another session, I believe we need to cultivate the habit of denying ourself. For century upon century, the church embraced this notion that to be a Christ follower required self-denial. Like Jesus said, "If anyone would be my disciple, he must take up his cross, deny himself, and come after me". Denying self has fallen out of fashion in contemporary Christianity. Far more titles in the bookstores about how to get God to do what we want than about denying ourselves.

Now, we're gonna pray before we go. You know, it's true that spiritual pressures are mounting in the earth. I think we all feel that, but there's good news in that, because pressure is what makes diamonds out of coal. So don't wring your hands in fear at the pressure, there's a kingdom opportunity in that, and God's called us to this time, let's pray.



Father, thank you that you're moving in the earth and that you have prepared us for just this time. I pray we'll have ears to hear, eyes to see, and hearts to receive. Thank you for it, in Jesus's name, amen.