Andy Stanley — We Do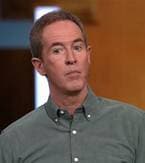 We reduce Christmas to forgiveness. We can't live up to God's standards, so he sent Jesus to make things right. Maybe your entire experience with God has been: nobody's perfect, but God forgives.

That message isn't necessarily incorrect, but it's incomplete. The message of Christmas is bigger and better than that.

We need Christmas because Jesus wants us to have life, and have it to the full. He came to save us from slavery to sin. He came to rescue us from the power of sin in us. We need Christmas because we need a savior.