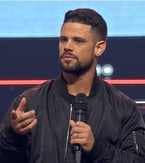 Sermon:

By Invitation Only

Ministry:

Steven Furtick Ministries


Most of us live our lives waiting on God to show up in the extraordinary and the miraculous, but what if He's just as willing to meet us in the ordinary and the mundane? What if the only thing that's keeping Him from moving in your life is your invitation?

God wants to take the ordinary moments of your life and turn them into something extraordinary.