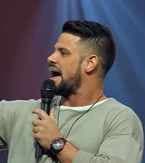 Sermon:

When Anxiety Attacks

Ministry:

Steven Furtick Ministries


This week's discussion is about anticipating and overcoming anxiety, one of our enemy's primary offensive strategies.

When anxiety attacks, running is often times our default reaction. But is there a better way? Discover what is at the center of your anxiety and learn how to resist it instead of running from it.