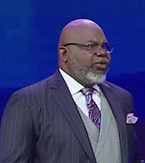 Sermon:

Ye Know not What Ye Ask For

Ministry:

The Potter's Touch

Church:

The Potter's House


Hello, everybody. I'm excited to have this opportunity to share the Word of the Lord with you. I've got nothing better to share with you than his Word.

The message today says, Ye know not what you ask for. Lord, Lord, so many times we ask amiss. I believe this teaching is so powerful and pragmatic and prepared for such a time as this. And I share it with you with an open heart knowing that God will use this Word to guide you in some way into your destiny. Gas up, let's go.