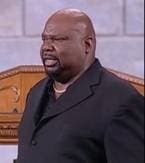 Sermon:

You Ain't Gonna Lose It

Ministry:

The Potter's Touch

Church:

The Potter's House


What do you do when you have lived all you know how, and you're up under a pruning and a cutting in your life, and you've rebuked the devil, and you've pleaded the blood, and you've anointed yourself with oil, and the problem persists in your life?

What do you do when God has ordered your steps, and today he's ordered trouble? Don't let anybody tell you that being in the will of God means you won't get in trouble, because Jesus was in the will of God when he went to the cross.

I'm so glad to have this opportunity to share the Word of the Lord with you. I know what it is to be blessed and to have opportunities, whether it's jobs, or relationships, or career moves, or whatever it is, and it's just everything you ever wanted it to be, but you're afraid to really be happy, because you're afraid you're going to go through what you went through before.

If you've ever had that feeling, that inner fear, that nagging voice, that gnawing in your stomach that maybe this won't last, you will definitely want to hear this message today. The message is called, "You ain't going to lose it this time."

To everyone who's ever lost something, and dared to try again, and wondered in your mind if you could really trust that what you have will last, this word is for you, John 15:15. You ain't going to lose it, not this time. Check it out.