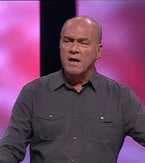 Sermon:

How to Wait for Christ's Return

Ministry:

Greg Laurie Ministries

Church:

Harvest Christian Fellowship


Here in the 21st Century, we often don't know how to wait. We have instant everything. But, Pastor Greg Laurie shows us how to wait patiently but expectantly for the return of Jesus Christ. It's timely instruction for last days' believers.