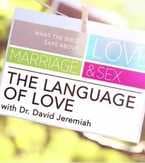 Sermon:

The Language of Love

Church:

Shadow Mountain Community


During courtship, men and women practice the art of praise with abandon. But too often, the practice of praise declines after vows are exchanged. Solomon and Shulamith were experts at praise, pointing out ways in which each one excelled above all others. There is power in praise. Song of Solomon 1:9-14.