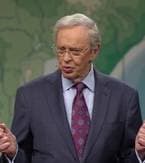 Sermon:

Your Convictions About the Holy Spirit

Ministry:

In Touch Ministries

Church:

First Baptist Church


Even as Christians, it's possible for us to be unaware of one of God's most awesome blessings. Although we may know we've been saved, we might not realize that the Holy Spirit came to live within us at that moment.

And even if we've heard this truth, we may not understand who the Spirit is or why His indwelling presence is significant.

The Scripture tells us everything we need to know about this amazing gift of the Holy Spirit sent to us from our heavenly Father to enable us to become and do what He desires.