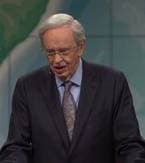 Sermon:

Lessons Learned In The Garden Of Eden

Ministry:

In Touch Ministries

Church:

First Baptist Church


God intends for us to be productive in our work. According to Genesis 2:15, Adam's job was to cultivate and keep the Garden of Eden. God also said, "It is not good for the man to be alone; I will make him a helper suitable for him" (v. 18), and He created Eve. Together they were to complete what the Lord had intended for them to accomplish, and this is still God's will for us today.

God is protective. The Garden of Eden was filled with fruitful trees from which Adam and Eve could freely eat, but there was one tree in the middle of the Garden, "the tree of the knowledge of good and evil," from which they were forbidden to eat (2:16-17).

God gave them a choice to love and obey Him, and because He loved them, He also warned them of the disastrous consequences of disobedience—"In the day that you eat from it you shall surely die" (v. 17).