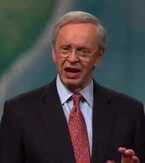 Sermon:

Why did Jesus have to Die?

Ministry:

In Touch Ministries

Church:

First Baptist Church


It is one widely accepted by unbelievers and has even begun to appear in some churches. The apostle Paul warned of it in 2 Timothy 4:3 when he said, "For the time will come when they will not endure sound doctrine."

This particular false teaching affects our understanding of salvation, our relationships with the Lord, and our eternal destinies. Sadly, many sincere people are being misled simply because they don't understand the importance of the cross.

We know that God loves everyone, but this wonderful truth has been twisted to mean that He would never limit His grace by claiming Jesus is the only way to be saved. This is why so many falsely believe that if they are good people who believe in God and ask Him for forgiveness, they'll go to heaven.

This message sounds comforting, but human goodness will never be enough. If you want to know what God has said about salvation, you only have to examine His Word. It clearly explains who Christ is, why He had to die, and why you must accept Him as your Savior in order to be reconciled to God.