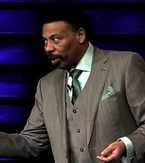 Sermon:

The Motivation for Ministry

Ministry:

The Urban Alternative

Church:

Oak Cliff Bible Fellowship


The Bible says: "Snatches the Word." He keeps the Word from getting down in your gizzard. He keeps the Word from sticking with you. So unless somebody else outside of you, stronger than you, is able to keep you tethered to the truth of God's Word, you will drift from it. You need the church for community.

I am deliriously excited to come to you with a brand new series called, Eternal Perspective. In this series, we're going to challenge you as never before to allow your view of your future to revolutionize and transform your present.

When you can see things from heaven's point of view and then live 'em out on earth, everything changes. I've been told that this may be one of my greatest series. I'll let you determine whether that's true.

We're gonna start off today by looking at the motivation for ministry. Paul wanted to present every man perfect or mature in Christ. What does that look like and how does that relate to you? Let's get to God's Word and see right now.