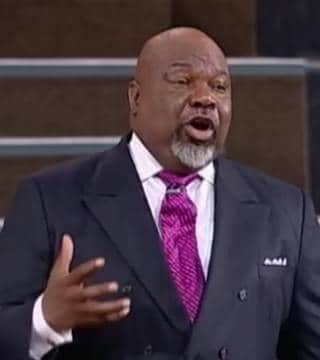 Sermon:

The God of the Night Before

Ministry:

The Potter's Touch

Church:

The Potter's House


In fact, the Bible says forgetting those things which are behind and reaching to those things which are before, we press toward the mark of the prize of the high calling of God.

It's marked. It is where it is, and the devil can't keep movin' it back. But it does feel like that sometimes. It feels like every time you're on the verge of finally gettin' your hands around the thing you believed in God to do, that the devil says, "Uh-uh, no, I'm movin' it back. No, keep comin'. I'm movin' it back." He can't move it back.

Glory to God, I'm so excited to have the opportunity to share the Word with you today. I am fired up and anointed about the privilege that God has given me to speak into your life.

I take it so seriously. I love all the tweets and all the information that I get through the Internet and social media response from you saying that you are being blessed by this ministry.

The message that I'm going to share with you today will not disappoint you. It will strengthen you. It will empower you. And it will get you ready. I don't want to waste a lot whole of time, because I got a burner for you. Take this.