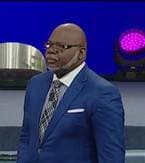 Ministry:

The Potter's Touch

Church:

The Potter's House


Life is pressure. Age is pressure. Love is pressure. We keep askin' for stuff, and stuff is pressure. "Oh, I want children, Jesus," never understandin' that a baby is pressure.

ello, everybody. I'm excited to have this opportunity to share the Word with you today. This is a Word that I believe is going to bless your life. I want you to prepare your mind, cut everything off and down, put it on low so that you can hear what the Spirit of the Lord is saying to the church.

I'm talking about pressure. We all have it, we all deal with it, some of us better than other. Pressure builds in silence, and you can be at your breaking point and not even know it. Are you under pressure? If you are, this message is for you.