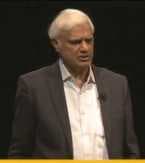 Sermon:

A Post Mortem On A Post-Truth Culture

Ministry:

Let My People Think


You see, truth is primarily a property of propositions where words present reality as it really is. Even manipulators of the truth know that truth as an objective assertion is assumed when one is the victim of a lie. It is only subjective when one has victimized others in the process and needs a fabrication.

Once we remove God and decide instead to play God, truth gives way to fiction. It used to be said, If a Cretan tells you all Cretans are liars, can you believe him? Now we have to ask ourselves if we can believe it when a post-truth culture tells us it is a post-truth culture.