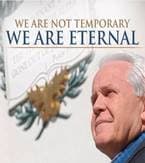 Sermon:

We Are Not Temporary, We Are Eternal

Ministry:

Jesse Duplantis Ministries


Jesse's compelling message will propel you into another level of God's strength and might which is available to you today. Your circumstances are not meant to last for a lifetime. Focus on His promises and watch God move.