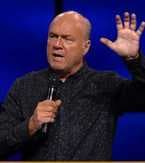 Ministry:

Greg Laurie Ministries

Church:

Harvest Christian Fellowship


What does the Bible say about the return of Christ? The second coming of Christ is when Jesus returns with His saints. "Jesus is returning to judge the world's unrighteousness, to bring justice and right wrongs," says Pastor Greg. As we wait, we are to be personally ready and get the gospel out to nonbelievers.

No one knows the day or the hour, but what we do know is that Jesus is coming back. And it could be soon! Pastor Greg Laurie helps us recognize the signs of the times and see what God wants us to be doing while we wait.

If you knew Jesus was returning tomorrow, would that prompt you to share your faith with an unsaved friend today? Pastor Greg Laurie points out how soon the Lord could return, and how we need to do all we can to help prepare our friends and loved ones.