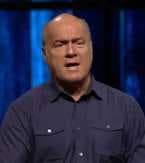 Sermon:

The Unforgivable Sin

Ministry:

Greg Laurie Ministries

Church:

Harvest Christian Fellowship


What is the Unforgivable Sin? What's the one sin for which there's no forgiveness? It's an unsettling issue, but Pastor Greg Laurie puts our minds at ease. Discover the biblical truth about the unforgivable sin.

The Bible is filled with countless stories of how God forgives the sins of man, but is there a point of no return? Can forgiveness become out of reach? It can, so be careful not to blaspheme the Spirit. The unforgivable sin is laid out in the Bible and Pastor Greg warns us about sins committed against the Holy Spirit.