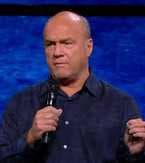 Sermon:

God's Plan for Sex and Marriage

Ministry:

Greg Laurie Ministries

Church:

Harvest Christian Fellowship


God invented marriage and sex to be between a man and a woman. Pastor Greg shares on the rolls of the husband, wife, and the oneness they share. To have a successful marriage God must be the center.

What is God's plan for sex and marriage? Pastor Greg gives us the template for a blessed and successful marriage. It is one of total commitment, anchored in scripture, and its foundation in Christ.

What is God's opinion of sex? Pastor Greg Laurie says some think the Bible disapproves of sex. But he points out sex was God's idea! Tuesday on A NEW BEGINNING, a straightforward discussion of sex and its rightful place in our lives. Tune in for biblical clarity on a sensitive subject!

Some want to rush into marriage. Pastor Greg Laurie says take your time. Quick decisions don't bode well for long-term relationships. Monday on A NEW BEGINNING, tune in for time-tested marriage advice from the pages of Scripture. Join Pastor Greg in Ephesians.