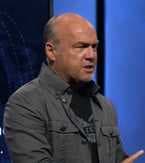 Sermon:

Come, Lord Jesus!

Ministry:

Greg Laurie Ministries

Church:

Harvest Christian Fellowship


In this message Pastor Greg wraps up his series on the Book of Revelation with a brief review flyover of the book and a detailed look at the final events of earth's history.

He explains that God has given us Bible prophecy to wake us up cause us to live as we should, since time is running short; and he reminds us of what the Bible says about how we should live as the end draws ever closer.''

We know God's Word is dependable and true. And when we consider what's ahead for this troubled world of ours, we need to trust the Bible for insights on God's Last Days plan. Tuesday on A New Beginning, Pastor Greg Laurie helps us understand what's coming.