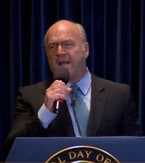 Sermon:

America, This Is Your Wake-up Call!

Ministry:

Greg Laurie Ministries

Church:

Harvest Christian Fellowship


With the world spiraling further and further into chaos, hope for revival may seem all but lost. We have two options as a nation: judgment or revival. Pastor Greg challenges Christians to live as salt and light in this world and sends us an important wake-up call: revival begins with you.