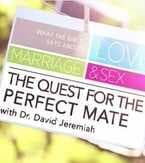 Sermon:

The Quest for a Perfect Mate

Church:

Shadow Mountain Community


It is possible for two people to live together and never delve beneath the surface of their lives. But if the really live together, their marriage will be marked by time spent together, words spoken together, trails shared together, and trust strengthened together. The two will become one. Song of Solomon 2:8-17.