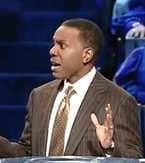 Sermon:

Using Praise as Your Weapon

Ministry:

Your World with Creflo

Church:

World Changers Fellowship


When you are under attack, remember, you have powerful weapon to resist and stand strong - that's praise! Use praise as a weapon in your troubles and spiritual warfare!

In this powerful sermon Pastor Creflo Dollar reveal to us how can we praise God and win every spiritual battle!