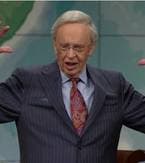 Sermon:

Your Convictions About Money

Ministry:

In Touch Ministries

Church:

First Baptist Church


Money is on almost everyone's mind today. We wonder whether we'll have enough to make ends meet each week, to pay for our children's education, to support our retirement, or to get out of debt.

There's nothing wrong or evil about having or using money. Where we sometimes go astray is in how we use it or why it's so important to us. Since handling money is a necessary and important part of life, we need to develop a personal conviction about it, based on God's Word. Only then can we live wisely and please Him in all our ways.