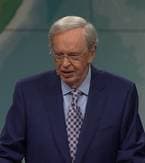 Sermon:

How to Stay Young and Useful All Your Life

Ministry:

In Touch Ministries

Church:

First Baptist Church


In Psalm 92:12-15, the Lord explains how to stay young and useful throughout our lives, however long we may live.

"The righteous man will flourish like the palm tree" (v. 12). This passage doesn't apply to everyone but only to those who are righteous and godly. To flourish signifies abundance of growth and fruit. The palm trees in this passage are date palms, which not only produced fruit, but whose leaves were used for fences and roofs.