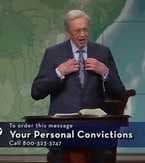 Sermon:

Your Personal Convictions

Ministry:

In Touch Ministries

Church:

First Baptist Church


As Christians we should have some godly convictions that define who we are and determine our lifestyle and choices.

We may claim that our convictions are a private matter; but in reality, they are constantly on display for all to see because we live them out each day with our words and actions.

God has given us standards and principles from His Word to protect us and to guide us, motivate, and help us to lead godly lives. Since our convictions have such a powerful influence, we must examine them to see whether they contribute to a righteous life in accordance with God's will or are leading us into a life dominated by our old fleshly nature.