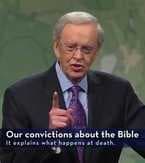 Sermon:
Your Convictions About The Bible
Ministry:
In Touch Ministries
Church:
First Baptist Church
What we believe about the Bible is absolutely crucial. Whether we've never read it or read it every day, each of us must make up our own mind regarding this amazing book.
Some people think that it was written by many different, imperfect men and must, therefore, contain errors. Others believe it's outdated and irrelevant for today because it was written so long ago. However, many Christians are convinced that the Bible is God's Word, which He has protected from error throughout the ages.
When we are fully assured that the Lord has given us a book without errors, we have a strong conviction that guides our lives.
A conviction is something we are so thoroughly convinced is true that we'll take a stand for it regardless of the consequences; but a preference is a belief that could change under certain conditions. When we begin to understand the truth of God's Word, we'll develop an awesome respect for the Scriptures (Isa. 66:2). As we examine our lives, we must determine whether we live by convictions or preferences.
The Bible has a four-fold purpose:
To reveal the one true God.

To explain how to be saved.

To teach us how to live a godly life.

To equip us to serve the Lord.