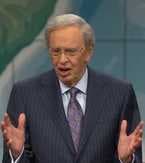 Sermon:

Your Conviction About the Crucifixion of Jesus Christ

Ministry:

In Touch Ministries

Church:

First Baptist Church


The cross has become a symbol of Christianity, but it's so much more than a mere piece of jewelry hanging around someone's neck.

The crucifixion of Christ is such an important doctrine because understanding it correctly determines whether or not we have eternal life. This was not simply the execution of a Jewish man by hanging on a cross. What transpired in that event was the solution to mankind's biggest problem—sin and our resulting alienation from God.