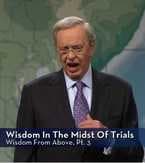 Sermon:

Wisdom in the Midst of Trials

Ministry:

In Touch Ministries

Church:

First Baptist Church


Our natural reaction to trouble is to seek a way out, but sometimes God has something far more important in mind than our immediate relief.

Instead of focusing on escape, we need to figure out what we can learn from the difficult or painful experience. Trials require wisdom because each one brings with it a choice. We can either become bitter and hostile toward God or respond in a way that benefits us.

Peter's first letter was addressed to people who were undergoing persecution because of their love for Christ. He encouraged them by explaining what was of utmost importance—an imperishable inheritance in heaven (1 Pet. 1:3-8). In light of their present salvation and this future hope, they could actually rejoice even in the midst of their trials.

The testing of their faith was more precious than gold because it would result in praise, glory, and honor at the coming of Jesus. When they saw the situation through the Lord's eyes and responded wisely, they benefited from their trials.